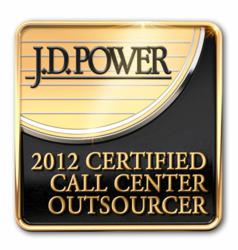 Center Partners has earned this impressive achievement by providing an outstanding customer service experience to Financial Services industry callers and are to be congratulated for their accomplishment
FORT COLLINS, CO (PRWEB) January 21, 2013
Center Partners' Financial Services practice recently achieved certification from J.D. Power and Associates in the Certified Call Center Program for Outsourcers. The program launched in 2012, and Center Partners successfully completed the challenging program, which evaluates overall customer satisfaction with call centers and increases efficiency and effectiveness by implementing and continually updating leading practices. "Center Partners has earned this impressive achievement by providing an outstanding customer service experience to Financial Services industry callers and are to be congratulated for their accomplishment," said J.D. Power and Associates.
"We are pleased to be a part of the J.D. Power standard for providing an outstanding customer experience," said David Geiger, CEO for Center Partners. "The J.D. Power program is consistent with our internal goals and aspirations, and, while we did work hard to meet the strict requirements, the program is right in line with the direction we're taking our business."
Two primary ways that certification requirements align with Center Partners' values are through taking care of employees and customers. "The J.D. Power and Associates standard fits us well," Geiger stated. "Maintaining high levels of customer satisfaction while handling a variety of call types for top brands in complex industries requires a simple philosophy. We ask ourselves two fundamental questions about every customer interaction: 'Did we provide a world-class customer experience?' and 'Did we do what our client pays us to do?' "
"Our employees absolutely enjoy being part of this experience," Geiger continued. "They're empowered and encouraged to provide solutions rather than merely achieve a metric. This focus on outcomes leads to happier employees, and far more satisfied client customers."
While J.D. Power and Associates launched the Call Center Certification Program almost a decade ago, 2012 marked the first year for the Certified Call Center Program for Outsourcers. "We felt the timing was perfect for us to measure execution against expectation," said Andrew Miller, Vice President of Operations. "The work we do in the Financial Services industry represents a significant portion of our business, and with this accomplishment we look forward to earning certification with J.D. Power and Associates in our Consumer Electronics, Insurance, and Wireless and Communication segments."
The journey to certification began in 2010. Arlo Pannell, Account Director for Financial Services, has been closely involved with the process from its inception. "After witnessing one of our Financial Services clients become certified at a Customer Satisfaction event, Center Partners committed to achieving the J.D. Power standard. Our organization has a large responsibility to represent our clients' products and services with integrity as well as deliver on our brand promise of a world-class customer experience. We've spent the past two years testing, implementing, and validating practices that create a positive environment for employees and facilitate customer advocacy."
To become certified, Center Partners successfully passed a detailed audit of over 100 practices. As part of its evaluation, J.D. Power and Associates also conducted a random survey of Center Partners customers who recently contacted its call centers in Colorado and Washington. For certification status, a call center must perform within the top 20 percent of customer service scores, which are based on benchmarks established in J.D. Power and Associates' cross-industry customer satisfaction research. The significance here is that certification is determined by the voice of the customer.
Mark Brooks, Process Manager for Center Partners, understands the importance of providing exceptional service: "While it is important to have codified processes and to consistently execute those processes, ultimately, the road to certification is paved with exceptional customer service. Preparation for certification is continual, and every employee from contact center representative to CEO plays a role in our success. Even so, the most important piece of preparation is the daily conversations and coaching sessions that supervisors have with their representatives." Mark has recently published "The Ultimate Guide to Exellent Customer Satisfaction" e-book. DOWNLOAD IT FREE, HERE.
Read the JD Power and Associates Release here.
About Center Partners
Established in 1997, Center Partners, based in Fort Collins, CO, provides customer interaction solutions through inbound, outbound, chat, and social media channels. The company offers performance expertise in creating, implementing, and managing multichannel programs covering sales and acquisition, customer care, and technical support for clients in such industries as wireless and traditional telecommunications, financial services, consumer electronics, online retailing, and insurance. Center Partners is a wholly owned subsidiary of WPP, Inc, and part of WPP's Kantar division. This structure allows Center Partners to remain nimble and responsive, yet have the financial backing of a Forbes Global 2000 corporation.
For more information on Center Partners and the services they provide, please visit http://www.centerpartners.com.
About J.D. Power and Associates
Headquartered in Westlake Village, Calif., J.D. Power and Associates is a global marketing information services company providing performance improvement, social media and customer satisfaction insights and solutions. The company's quality and satisfaction measurements are based on responses from millions of consumers annually. For more information on car reviews and ratings, car insurance, health insurance, cell phone ratings, and more, please visit JDPower.com. J.D. Power and Associates is a business unit of The McGraw-Hill Companies.
About The McGraw-Hill Companies
McGraw-Hill announced on September 12, 2011, its intention to separate into two public companies: McGraw- Hill Financial, a leading provider of content and analytics to global financial markets, and McGraw-Hill Education, a leading education company focused on digital learning and education services worldwide. McGraw- Hill Financial's leading brands include Standard & Poor's Ratings Services, S&P Capital IQ, S&P Indices, Platts energy information services and J.D. Power and Associates. With sales of $6.2 billion in 2010, the Corporation has approximately 21,000 employees across more than 280 offices in 40 countries. Additional information is available at http://www.mcgraw-hill.com/.
Media Relations Contacts:
John Tews; J.D. Power and Associates; Troy, Mich.; (248) 312-4119; media.relations@jdpa.com
Kristin Meza; Guardian Life Insurance Company of America; (212) 919-2158; kristin_meza@glic.com.
Andrew Reynolds; Center Partners; (970) 206-9000; andrew.reynolds@centerpartners.com
No advertising or other promotional use can be made of the information in this release without the express prior written consent of J.D. Power and Associates. http://www.jdpower.com/corporate.