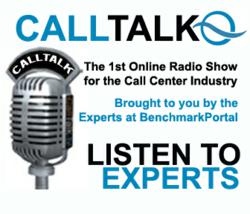 "We work with call centers across the globe to implement co-browsing technologies, so we have some great case study examples and best practices to share."
Santa Barbara, CA (PRWEB) August 09, 2012
BenchmarkPortal will air a new online radio show on CallTalk, discussing co-browsing technology. Customer service strategies have evolved over time to cover every communications channel - phone, chat, email, social media and more. But, with the exception of in-store service, most companies have lacked a visual component to customer service communications. Learn how co-browse technology is now being used in call centers to create a visual connection, enabling agents to see exactly what a customer sees on the screen during a call or chat.
The host for this show is Bruce Belfiore, CEO at BenchmarkPortal. The guest speaker is Dusty Stanford, Sales Director, LiveLOOK.
"LiveLOOK is very excited to be working with BenchmarkPortal to bring an in-depth overview of co-browsing to call center professionals," said Michelle Brusyo, LiveLOOK's marketing director. "We work with call centers across the globe to implement co-browsing technologies, so we have some great case study examples and best practices to share."
The free online radio show will air Wednesday, August 15th, 2012, at 10 a.m. PT/1 p.m. ET. Click here to listen to CallTalk, (http://www.benchmarkportal.com/call-center-newsresources/calltalk-online-radio-show)
About CallTalk
A fun and exciting online program for education and learning, for the customer service industry. Once a month, broadcast directly over the Internet to your desktop, covers informative and educational topics that impact the contact center and customer service today.
About BenchmarkPortal
BenchmarkPortal's founders pioneered the first contact center benchmarking study in 1995. Now custodian of the largest database of contact center metrics in the world, BenchmarkPortal is a leader in certification, training, consulting and research for the customer contact industry. Its team of professionals has gained international recognition for expertise and innovation in best practices. BenchmarkPortal's mission is to help management optimize the performance of their center in terms of both cost and quality, encourage customer loyalty and build enterprise value. For more information on BenchmarkPortal, call 1-800-214-8929 or visit http://www.BenchmarkPortal.com.