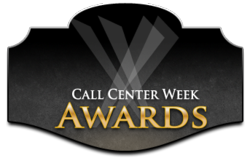 "Our virtual agent technology delivers a seamless, multichannel self-service experience, which has a major impact on the modern contact center."

Mike Hennessy,
Vice President, Marketing IntelliResponse
Toronto, Ontario (PRWEB) June 06, 2012
TORONTO, Ontario – June 6, 2012 – IntelliResponse Systems, provider of patented multi-channel web self-service and virtual agent software solutions that drive profitable online conversations, announced today that it has been named a finalist for the Call Center Excellence Awards, in the "Best Technology Solution Provider" category.
Presented by IQPC, the Call Center Excellence Awards honor, recognize and promote the most innovative call center solutions and individuals over the past year. With awards given in eight categories, they are dedicated to recognizing superior thinking, creativity and execution across the full spectrum of call center functions.
During a special luncheon on June 7th at 12.00pm, IQPC will be announcing the winners and presenting awards at the 13th Annual Call Center Week Event, held this year at Caesars Palace in Las Vegas. Later that day, winners will participate in the Call Center Excellence Award Winners panel taking place 3:45 pm.
IntelliResponse is also exhibiting at booth# 603 on June 6th & 7th at the Annual Call Center Week conference and will be showcasing its award-winning virtual agent solutions there. IntelliResponse staff will be sharing with delegates how its solutions help drive profitable conversations across multiple customer interaction points.
"We're honored that IntelliResponse was selected as a finalist for the Call Center Excellence Awards," said Mike Hennessy, Vice President, Marketing at IntelliResponse. "Our virtual agent technology delivers a seamless, multichannel self-service experience, which has a major impact on the modern contact center in terms of improving key performance measures such as first call resolution (FCR), average handling time (AHT) and customer satisfaction (CSAT) scores. We look forward to participating in the Call Center Week conference activities, as well as helping organizations learn how they can drive profitable online conversations with our virtual agent technology."
Follow IntelliResponse on Twitter @IntelliResponse and on Facebook at http://www.facebook.com/IntelliResponseInc
About IntelliResponse Systems
IntelliResponse enhances the multi-channel sales and customer service capabilities of hundreds of enterprise businesses and financial institutions with its patented, award winning virtual agent technology.
With more than 550 live customer-facing implementations answering 100 million+ questions, IntelliResponse is the gold standard in first line customer experience management. With the IntelliResponse, your company website, mobile application, social media channels and agent desktop can all be transformed by an engaging virtual concierge, empowering customers to ask questions using normal, conversational language. The correct and complete answer is then instantly served to them in a variety of engaging ways. For more information about IntelliResponse, visit http://www.intelliresponse.com