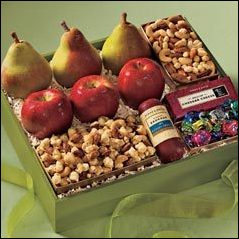 We've implemented technology that was able to better utilize our workforce and increase the effectiveness of the interaction with the customer
East Hartford, CT (PRWEB) July 18, 2007
In 1910 Samuel Rosenberg traded the luxurious Hotel Sorrento for 240 prime acres of pears in Southern Oregon's Rogue River Valley and named them Bear Creek Orchards after the nearby waterway. His sons Harry and David began one of the nation's premier direct marketing and e-commerce companies (Harry & David).
In order to support the thriving mail order business, Harry & David set up a customer service contact center. The contact center has changed significantly over the years, especially in terms of technology.
"We've implemented technology that was able to better utilize our workforce and increase the effectiveness of the interaction with the customer," said Jason Phillipson, Director of Planning for Customer Operations.
"The biggest advantage new technology has is that it allowed us to hold our labor needs static. Advances in our online stores, sales & service applications, knowledgebase, telemarketing, call monitoring, and training systems have kept pace and often exceeded the demand for additional labor force. In fact, over the last 10 years the call centers' labor needs have changed relatively little, while the business grew significantly," he added.
Currently, Harry & David has several systems in use in their contact centers. The various applications include an order taking/customer service system, web/knowledgebase, email management, call recording and monitoring, electronic time card, electronic product information index, scheduling, multiple phone switches for multiple sites, electronic badge production, electronic employee statistics and evaluations, online work queues and more.
The call recording application is the Virtual Observer solution, interfacing with their Avaya phone system, and enabling call recording for quality assurance purposes. Employing about 300 customer service agents year round, the number swells to about 4000 across multiple contact centers during the busy holiday season.
"The scale of our holiday call activity pushes all our infrastructure and systems to their peak capacity. This is coupled with the condensed time frame we have to do it in….we hire and train the majority of the 4,000 in about 2 months time. There is also a lot of role transition. Many of our year-round staff are our leaders, trainers, and support staff during the holiday season.
During our holiday season we handle about 100,000 calls per day but during the off season we can go as low as 5,000. A typical day would be around 6,500 calls. Needless to say, it's a busy time for us. The Virtual Observer system scales seamlessly during the holidays, whether it's 300 users or 4000," Jason stated.
When asked about the other contributing factors in Harry & David's decision to implement CSI's Virtual Observer solution, Jason replied with that "the major factors were price and usability. There are systems being sold out there with many more bells and whistles than Virtual Observer but the question, for us, was, would we really use all those extras? In the end we felt that CSI offered a solution that was one we could understand and use. We just couldn't cost justify all those extra features. Because of the seasonality in our business, it is always a challenge to size a system for our peak and see that our costs and licensing fees reflect our lower usage the rest of the year. CSI accomplished that for us."
Many e-commerce companies are faced with trying to achieve Visa payment card industry (PCI) compliance. Harry & David has implemented Virtual Observer's Media Encryption technology to encrypt all interactions. Besides PCI compliance, this also helps to protect valuable customer information. "This did help us achieve PCI compliance, which is very important to us as we accept customers' credit cards orders over the phone," Jason added.
Asked about what type of impact Virtual Observer has had, Jason replied with "One of the immediate benefits was our ability to monitor that large influx of new associates we have at our season. Being able to give them feedback on their performance quickly and correct areas where they are having trouble has lower our attrition, during that critical period, and saved us money."
"We highly recommend Virtual Observer for other e-commerce contact centers. The features, cost, and ease of use along with the good customer service provided by CSI makes this system an excellent choice."
Harry & David provides consumers with gourmet-quality fruit and gift assortments year-round from their mail order catalogs, online store, or retail stores nationwide. Their headquarters is in Medford, Oregon, and they also have a campus in Hebron, Ohio. Harry & David operates a seasonal call center in Eugene, Oregon.
Virtual Observer supports a large variety of Analog, Digital and VoIP phone systems: Cisco, Avaya, 3COM, Siemens, Nortel, Mitel, as well as any SIP-enabled VoIP systems.
Coordinated Systems, Inc. (CSI) has been in business since 1972. CSI employs a "Start Small, Think Big" philosophy that allows call centers to use a phased approach and still receive a high impact return on investment when implementing call recording and quality monitoring technology.
###