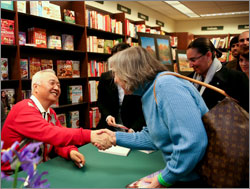 Even though this book is set in Sedona, ... I wrote it for anyone seeking greater fulfillment and deeper meaning in their lives and who cherishes an intimate connection with nature.
Sedona, Arizona (PRWEB) July 31, 2012
The Dahn Yoga community offers congratulations to founder, Ilchi Lee. After successful sales earlier this year, Ilchi Lee's book tour for his inspirational work, 'The Call of Sedona: Journey of the Heart,' will take place from late July through September. A new edition of The New York Times bestseller, which has helped readers all over the country find inner peace, is now being published by Scribner, an imprint of Simon & Schuster.
Initially released by independent publisher, BEST Life Media, The Call of Sedona has found a new home with Scribner. Susan Moldow, Executive Vice President and Publisher of Scribner, first learned about the book when she visited Sedona, Arizona. The beauty of Sedona and the book's runaway success inspired Scribner to acquire the world rights for international distribution.
For the latest tour, Ilchi Lee will be visiting and speaking at bookstores, universities and meditation circles throughout the United States. Attendees will also have the chance to pick up the new Scribner's edition or the audio version of The Call of Sedona. "Even though this book is set in Sedona," Ilchi Lee explained, "its readers are not limited to those interested in this magical region. I wrote it for anyone seeking greater fulfillment and deeper meaning in their lives and who cherishes an intimate connection with nature."
For more information about Ilchi Lee's book tour, visit http://www.callofsedona.com/events/