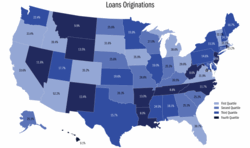 In this low rate environment, new members aren't chasing yields -
Washington, DC (PRWEB) February 21, 2013
Assets surpassed $1.03T and loans outstanding hit a record of $605.3B. Credit unions in every state reported increases in loan originations compared to 2011 totals.
Over 2.1 million consumers joined a credit union in 2012, bringing total member-ownership to over 95 million. More significantly 2.7 million new checking accounts were opened, demonstrating both new and existing members' choice of a cooperative as their primary financial institution.
"In this low rate environment, new members aren't chasing yields," said Chip Filson, Chairman of Callahan & Associates. "They have decided to become part of a cooperative in which the members' needs and institution's purpose are aligned."
Callahan analysts pointed out key factors that contributed to this resurgence. The overall economic recovery has increased consumer demand for autos, housing and small business lending. More importantly, credit union leaders never stopped lending even at the peak of the financial crisis.
For example, Bill Lawton, President and CEO of Community Financial Credit Union (Plymouth, MI, $512M) put member-owners first, advertising: "we have millions to give." At year end 2012 Community Financial Credit Union reported a 109% loan to share ratio! "As a cooperative, our duty is to support our members and contribute to their wellbeing by investing in their communities," Lawton said. "We promote financial education with 35 school branches and donate to nonprofits by asking members who we should support."
Consumers aren't the only ones to recognize the importance of the cooperative model. President Obama's recent nomination of Sally Jewel to be Secretary of the Interior is noteworthy in that she is the CEO of REI , one of the nation's largest retail cooperatives. Also noted were comments from Callahan's CEO survey which shows that their 2013 expectations are very positive.Dutrac Community Credit Union (Dubuque, IA, $552M)reported that, in their perspective, the economy is improving both nationally and locally, lending is picking up, and delinquencies/charge offs continue to trend downward. Rogue Federal Credit Union (Medford, Oregon, $805M) summed up the mood of the nation best: "We have found that our measured and methodical response to the crisis has resulted in creating amazing community confidence making us the leader in deposit market share!"
For a full report with graphs and comments on the 2012 industry results, visit http://www.CreditUnions.com.