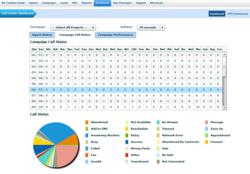 There's nothing more productive than being able to connect your best, highly trained, 3CLogic certified agents to your most strategic customers.
(PRWEB) November 29, 2011
3CLogic, the leader in cloud based contact centers, is proud to announce the launch of 3CLogic University. 3CLogic University thoroughly assesses agents' and managers' knowledge of 3CLogic platform and functionalities, thus providing businesses with a database of certified agents. These new assessments, along with the ability to deploy home based agents, allow businesses of all sizes to flexibly scale up or down, support and sales representatives as per business demand.
3CLogic University provides unique assessment to efficiently measure agent and manager performance on the 3CLogic platform and portal. It is critical for all contact center managers and agents to be assessed by tests such as those provided by 3CLogic University to appropriately match agents to customer's specific needs. Additionally, the 3CLogic assessments allow businesses to offer best-of-breed support to their customers by providing highly trained, qualified agents to assist their customer support inquiries. By analyzing the knowledge levels of agents through assessments, businesses can save time and increase customer satisfaction rates dramatically. With the launch of 3CLogic University, businesses can boost their revenues and return on investment rates by qualifying their supervisors and agents with an official program certification. This permits the most specialized agents to efficiently assist all customer support inquiries and provides contact center administrators with tools to determine which agents need more work or improvement.
"The launch of 3CLogic University offers contact center administrators the key they've been looking for to fully evaluate the knowledge base and skill levels of their staff. There's nothing more productive than being able to connect your best, highly trained, 3CLogic certified agents to your most strategic customers. It's a win-win situation for both the contact center business and their customers. This is just something that has been lacking with traditional brick and mortar call centers; now being available to you from any remote location", said Ramana Reddy, Director of Client Services at 3CLogic.
Furthermore, "E-learning" also known as "E-Assessments" provides contact center administrators with increased access to home based agents as learning, training and assessments are all done online. This permits agents and supervisors to learn at their own pace, taking the assessment when they have finished all modules and study guides to obtain their certifications. This also gives the agents a broader range of flexibility to study and take the test at a time and location that best suits them. The deployment of remote agents allows them to work from a place they feel comfortable, providing them and the contact center with a more flexible schedule for operations. 3CLogic University is available starting December 1, 2011 and offers call center administrators an "e-school" to teach, train, and assess their call center staff. To get started today, please visit 3CLogic University and start assessing your contact center representatives today.
About 3CLogic:
3CLogic, headquartered in Rockville, Md., is a leading provider of cloud based call center and social media applications for interactive e-commerce transactions. 3CLogic adds voice, chat and text capabilities to any e-commerce transaction on social media networks and combines them with a cloud based contact center solution. 3CLogic's Inbound Cloud Call Center and Hosted Predictive Dialer, combined with cloud technologies, helps companies of all sizes increase sales and provide better customer service. For more information, please contact 3CLogic at 800-350-8656 or info(at)3clogic(dot)com. http://www.3clogic.com.
###