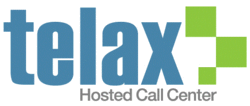 "Telax provides a key arrow in our quiver of service offerings," stated Bob Watson, Communications Systems Analyst, Office of Information Resources. "We are moving to an IP based telephony environment and a hosted ACD solution will give our state agencies
Toronto, ON (PRWEB) September 20, 2012
Telax Hosted Call Center is pleased to announce that it recently won a competitive bid issued by the State of Tennessee for a five year contract to provide hosted ACD solutions to all state agencies.
"Telax provides a key arrow in our quiver of service offerings," stated Bob Watson, Communications Systems Analyst, Office of Information Resources. "We are moving to an IP based telephony environment and a hosted ACD solution will give our state agencies the ability to access cloud based contact center services."
This switch will allow state agencies to empower their employees with an intuitive, browser-based user interface that is easy to learn and use. Access to extensive intelligence gathering and reporting functions will enable state agencies to monitor service levels in real time in order to provide an enhanced customer experience to citizens and other stakeholders.
Former US Federal CIO Vivek Kundra estimated his Cloud First strategy would save the federal government at least $5 billion annually with their implementation of cloud computing. The State of Tennessee is leading the way with this change and will benefit tremendously from the experience. They are going to save money and not only maintain their existing services, but improve them as well, something tax payers in Tennessee will profit from in many ways.
As cloud based computing explodes into the marketplace, many organizations are rethinking the traditional approach of in-sourcing contact center technology and tech support. Telax is uniquely positioned to fill this evolving need and will be hosting a series of webinars on this trend. Please contact pamela@telax.com to add yourself to the invite list.
Telax Hosted Call Center, established in 1999, empowers contact centers to fulfill their key purpose: creating happy customers. With more functionality than traditional hardware, at a fraction of the cost, Telax clients get a customizable, easy-to-use hosted call center solution that includes responsive day-to-day support and no long-term contracts. Feature capabilities include: multi-channel ACD, self-service IVR, workforce management, recordings, reports, CRM integration, social media and more. The simplicity delivered by Telax Hosted Call Center enables clients like: Best Buy, Northrop Grumman, Johnson & Johnson, CI Investments, Health Canada and the GSA, to reduce costs and improve efficiency, so they can do more with their most critical resource: people.