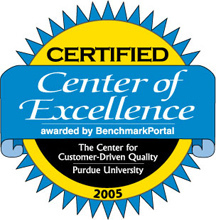 West Lafayette, Ind. (PRWEB) April 13, 2009
Become a certified manager from Center for Customer Driven Quality at:
Purdue University
Purdue Research Park
3000 Kent Avenue
West Lafayette, Indiana 47906
http://www.benchmarkportal.com
Course Dates:
May 12-15, 2009 -- Chicago, IL Plus tour of AMA Call Center Register Now
June 16-19, 2009 -- Minneapolis, MN plus tour of GE Call Center Register Now
July 21-24, 2009 -- Seattle, Community Health Plan of Washington Register Now
September 15-18, 2009 -- Chicago, IL Plus tour of Bankers Life and Casualty Call Center
October 06-09, 2009 -- Memphis, TN
October 13-16, 2009 -- Los Angeles, plus tour at the Bosley Call Center
November 03-06, 2009 -- Atlanta, GA Plus tour of State call center
December 01-04, 2009 -- Phoenix, AZ
http://www.thecollegeofcallcenterexcellence.com
The course includes both lectures and case studies, which were developed by Dr. Jon Anton, Director of Research at Purdue, internationally recognized as a leader in Call Center Management. Class size allows one-on-one interaction with the instructors and enables managers and agents to network effectively with colleagues and industry peers. Typically participants include Call Center Managers, Directors and Vice Presidents. These courses will help better manage the call center and strengthen relationships with other departments (for example: Marketing, MIS and Telecommunications).
We provide complete course documentation for each attendee. As a participant one will receive a comprehensive workbook with over 100 pages and a sample case study - a document for easy reference when applying new skills at work.
The Courses offered by the College are taught by experienced instructors in Contact Center Management and Consulting. We believe this experience sets The College of Call Center Excellence apart. For managers looking to elevate the performance of their own skills and insights on a wide range of subjects there is no better program of courses.
Notes: Dress is business casual. A complimentary breakfast and lunch are provided.
For More Information:
In-person course information: 805.465.7201 extension 0
###