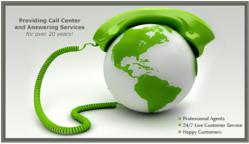 We might as well face it in this age of down-sizing and economy of operations: outsourcing services is the new normal for many day-to-day tasks in the business world. - Gregg Snyder
Lake Havasu City, AZ (PRWEB) September 08, 2011
Gregg Snyder, CEO of United Call Center is pleased to announce the business has entered its third decade in operation. The US-based company, opened in 1989, is a nationwide provider of call center services.
"Since 1989 we have been, and still are, "The Better Answer" for US businesses requiring call center and telephone answering services to conduct their operations," said Snyder.
"We cite employee longevity and loyalty as our greatest asset besides our customers. We don't outsource our services to remote, part-time offshore agents. All of our services are performed in the US by in-house, full-time dedicated agents and management teams. That's the secret sauce in our recipe for success."
But it's not the only ingredients in their pot of success. Infrastructure and innovative services add much to the quality of this dish.
United Call Centers uses the highest quality hardware and software in the industry to maintain their edge over the competition. Continual upgrades to these systems offer the most advanced call processing software and hardware available in the industry. This allows calls to be efficiently processed with greater accuracy at maximum cost savings.
Dependability is paramount to the success of any service industry and United Call Center is no different. Backup systems are in place on all equipment, telephone and power sources. This ensures call center services are ready to accept callers anytime, day or night.
A close association with multiple vendors allows the company to offer new products and services regularly; sometimes years ahead of the competition. This is a sample of services currently offered:

24/7 Live Answering Service
Lead Capture Tools
After Hours Answering
Bilingual Services
Call Forwarding
Inbound Sales
Virtual Receptionist
Appointment Scheduling
Voice Mail Solutions
Dedicated Agents
Customer Support
Help Desk Services
"Businesses are all about final results; driven by efficiency and measured against the bottom line. To remain competitive in a high tech, low overhead environment, businesses must embrace technology and the opportunities it offers," according to Snyder. "We might as well face it in this age of down-sizing and economy of operations: outsourcing services is the new normal for many day-to-day tasks in the business world."
To learn more about United Call Center, visit our website or call Sandra at the number below to request an interview:
United Call Center
2849 Maricopa Ave
Lake Havasu City, AZ 86406
Sandra Rademacher
800-955-8025
http://www.unitedcallcenter.com/
# # #