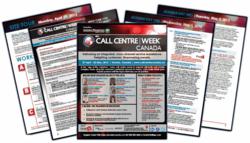 "In the 'age of the customer,' every call centre needs to respond efficiently and handle complex issues using the customer's preferred channel of choice. Call Centre Week Canada pairs expert speakers with the topics that help you do just that"
New York, NY (PRWEB) February 21, 2013
Customer Management IQ, a division of IQPC announces its 8th Call Centre Week Canada, taking place April 29 – May 2, 2013 at the Marriott Bloor Yorkville in Toronto, Canada.
"In the 'age of the customer,' every call centre needs to respond efficiently and handle complex issues using the customer's preferred channel of choice. Call Centre Week Canada pairs expert speakers with the topics that help you do just that" says CMIQ's Sakina Hussain.
In a survey conducted at last year's event, it was reported that 79% of consumers who shared their complaints about poor customer experience online had their complaints ignored. 21% of whom did get responses to complaints, more than half had positive reactions: 22% posted a positive comment about the organization.
The all-new 8th Call Centre Week Canada is most compelling and practical event in Canada for call centre professionals and the only event that will provide key insights and strategies for transforming your call centre from a cost centre to profit centre.
The 8th Call Centre Week Canada delivers the most practical information answering your most pressing issues:
Workplace structure and culture – employee absenteeism, engagement, motivation
Proactive decision-making vs. reactive decision making
Analytics – increasing customer retention, attrition and loyalty
Using social media to drive call centre efficiency
Digitizing your call centre "technology integration"
This year's event also offers 3 in-depth pre-conference training workshops and an exclusive site tour of Toronto 311.
The all-new 2013 speaker faculty includes:*
Mike Kelley, Director, Natural Resource Ministry British Columbia Government
Bill McGovern, Director, Customer Support Services, ABB
Jean Lemyre, Senior Director, Customer Relations & Metrics, VIA Rail Canada
Lawrence Whitaker, Senior Consultant, Customer Experience, Bell
Michelle Pinchev, Manager, Social Media Customer Care, Scotiabank
Fanny Bustillo, Senior Service Integration Analyst, Bombardier
Robin Spence Haffner, Director, Operations Support Canada, Allianz Global Assistance
Erna M. Hall, Director, Customer Service Centre, City of Regina
Jasmin Denault , Vice President, Client Experience, Group Savings & Retirement, Standard Life
Penny Wareham, Operations Leader, National Operations, Johnson
Mary Lou Miller, Customer Care Manager, Cambridge Centre Honda
John Osmond, Director, Client Services, Customer Care Access Centre, Housing Services Corporation
*The full list of speakers is available at http://www.callcentrecanada.ca
The 8th Call Centre Week Canada was designed to deliver the tools and templates that ensure each session remains focused on the specifics of HOW you will add value to your organization upon your return to the office. Don't miss out on the opportunity to learn from industry thought-leaders, authors, practitioners and experts on how to develop a multi-channel call centre experience.
For more information on the 8th Call Centre Week Canada, please visit http://www.callcentrecanada.ca or contact Stephanie Gonzalez at Stephanie.Gonzalez(at)iqpc(dot)com
About IQPC
IQPC (http://www.iqpc.com) provides business executives with tailored practical conferences, large-scale events, topical seminars and in-house training programs. Producing over 1,500 events annually around the world, IQPC continues to grow and has offices in cities across six continents including: Berlin, Dubai, London, New York, Sao Paulo, Singapore, Sydney, and Toronto.
About CMIQ
Customer Management IQ (http://www.customermanagementiq.com) leverages data, intelligence and networking from our global community of call center professionals to keep you ahead of the curve…and your competition.
Contact:
Stephanie Gonzalez, IQPC
P: 212-885-2685
E: Stephanie.Gonzalez(at)iqpc(dot)com