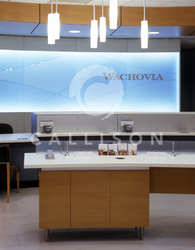 Up until now retailers have been slow to adopt sustainable practices. For the first time, national retailers can build to LEED standards across their portfolio of stores without having to go through the certification process for each individual site
(Vocus) June 23, 2008
Callison , the number one retail design firm in the world, partnered with the United States Green Building Council (USGBC), to develop two groundbreaking sustainable models designed for retailers: LEED for Retail and LEED Portfolio, also referred to as LEED Volume.
In an unprecedented effort, Callison led architectural development for both pilots simultaneously to develop a prototype for Wachovia's regional financial centers, helping to establish the tools and guidelines for the LEED for Retail rating system. The Wachovia prototype received the first LEED Silver Commercial Interiors (CI) and Portfolio certification under the new system.
The LEED Portfolio pilot allows retailers and other volume builders to certify all subsequent projects once an initial prototype has met the established criteria. The pilots are conducted through a rigorous, multi-step process designed to gather feedback, draft, test and ultimately document point modifications and/or alternative compliance paths in new application guides.
"Up until now retailers have been slow to adopt sustainable practices. For the first time, national retailers can build to LEED standards across their portfolio of stores without having to go through the certification process for each individual site," says Chris Hamilton, Principal at Callison. "This results in an efficient, streamlined process for building sustainable on a large-scale, thus saving time, money and manpower for retailers that want to go green."
"The built environment has a profound impact on our natural environment, economy, health and productivity," said Rick Fedrizzi, President, CEO & Founding Chair, U.S. Green Building Council. "Green buildings yield tremendous benefits - they use less energy, use less water and fewer resources, they also have less of an impact on the environment and are healthier places for their occupants."
For Wachovia, the new certification process will allow the bank to open more than 300 branches in accordance with LEED for retail standards by 2010.
Callison has more than 30 million sf of sustainable projects worldwide, of which more than nine million are LEED registered projects. Callison believes sustainable design is a smart business strategy. Through reduced life-cycle costs and increased ROI and brand recognition, smart business strategies fuel sustainable design.
Callison, the number one retail design firm in the world (World Architecture, 2003-2008), plans and designs retail, hospitality, mixed-use, residential, corporate and healthcare projects worldwide. With offices in Seattle, New York, Los Angeles, Dallas, Shanghai, London and Mexico City, Callison is one of the largest architectural design firms based in the United States with more than 800 professional staff. Clients include Nordstrom, Microsoft, AT&T, Harrods, FedEx, Starwood Hotels & Resorts Worldwide, Boeing, HP, Intrawest, Nike, Guess, Franciscan Health System, Seibu Department Stores of Japan, and General Growth Properties. http://www.callison.com.
Contacts:
Autumn Conrad, Communications Specialist
Office: 206.623.4646
autumn.conrad @ callison.com
Vanessa Gallant, Communications Mgr.
Office: 206.613.4921
vanessa.gallant @ callison.com
###