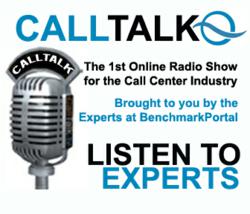 Santa Barbara, CA (PRWEB) July 09, 2012
BenchmarkPortal will air a new online radio show on CallTalk, discussing agent satisfaction. Is employee engagement as strong as it could be in your organization? Is everyone highly motivated to do a great job every day? In this episode of CallTalk, Teresa Amabile describes a decade of research into the hearts and minds of people at work. Her results, and their implications for what managers and supervisors do every day, may surprise you.
The host for this show will be Bruce Belfiore, CEO at BenchmarkPortal. The guest speaker is Dr. Teresa Amabile, Harvard Business School Professor. Teresa Amabile is the Edsel Bryant Ford Professor of Business Administration and a Director of Research at Harvard Business School. Her research investigates how life inside organizations can influence people and their performance. She is the coauthor of The Progress Principle, Creativity in Context, and Growing Up Creative, as well as over 150 scholarly papers, chapters, case studies, and presentations. She has presented her theories, research results, and practical implications to various groups in business, government, and education, including Google, Pixar, Intel, TEDx Atlanta, Procter & Gamble, Novartis International AG, and Motorola.
The free online radio show will air Thursday, July 19th, 2012 at 10 a.m. PT/1 p.m. ET. Click here to listen to CallTalk.
About CallTalk
A fun and exciting online program for education and learning, for the customer service industry. Once a month, broadcast directly over the Internet to your desktop, covers informative and educational topics impacting the contact center and customer service today.
About BenchmarkPortal
BenchmarkPortal's founders pioneered the first contact center benchmarking study in 1995. Now custodian of the largest database of contact center metrics on the world, BenchmarkPortal is a leader in certification, training, consulting and research for the customer contact industry. Its team of professionals has gained international recognition for expertise and innovation in best practices. BenchmarkPortal's mission is to help management optimize the performance of their center in terms of both costs and quality, to encourage customer loyalty and build enterprise value. For more information on BenchmarkPortal please call 1-800-214-8929 or visit http://www.BenchmarkPortal.com.