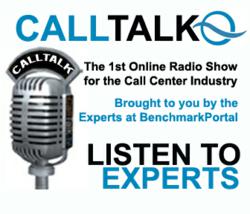 Santa Barbara, CA (PRWEB) September 11, 2012
BenchmarkPortal will air a new online radio show on CallTalk, (http://www.benchmarkportal.com/call-center-newsresources/calltalk-online-radio-show) discussing call center training. Health Net Federal Customer Service Representatives are always thirsting for more knowledge, whether it's regarding the markets they serve or the health benefits available to service members. Health Net employees focus on empathy with their military community. This has helped Health Net create a unique culture where everyone feels a purpose and a mission to serve those who serve our country.
The host for this show is Bruce Belfiore, CEO at BenchmarkPortal. The guest speakers are Fidel Ligsay, VP of Call Center Operations and Ezra Easley, Director of Call Center Operations, Health Net Federal Services.
The free online radio show will air Wednesday, September 13th, 2012, at 10 a.m. PT/1 p.m. ET. Click here to listen to CallTalk, (http://www.benchmarkportal.com/call-center-newsresources/calltalk-online-radio-show)
About CallTalk
A fun and exciting online program for education and learning, for the customer service industry. Once a month, broadcast directly over the Internet to your desktop, covers informative and educational topics that impact the contact center and customer service today.
About BenchmarkPortal
BenchmarkPortal's founders pioneered the first contact center benchmarking study in 1995. Now custodian of the largest database of contact center metrics in the world, BenchmarkPortal is a leader in certification, training, consulting and research for the customer contact industry. Its team of professionals has gained international recognition for expertise and innovation in best practices. BenchmarkPortal's mission is to help management optimize the performance of their center in terms of both cost and quality, encourage customer loyalty and build enterprise value. For more information on BenchmarkPortal, call 1-800-214-8929 or visit http://www.BenchmarkPortal.com.