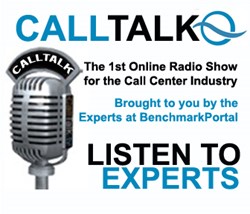 Santa Barbara, CA (PRWEB) June 04, 2013
BenchmarkPortal will air a new online radio show on CallTalk discussing adding sales to the customer service culture. Transitioning a call center from a typical "customer service" environment to a "sales" environment can be challenging, however, in today's competitive environment, it is critical to have everyone in the organization focused on upselling or cross selling products/services. This show will provide strategies for making this transition and ensuring that the call center is a revenue generator. These strategies allowed the TXU Energy call center to begin to pay for their own operating expenses within three months, improved the morale of the employees and provided more opportunities for all center personnel.
The host for this show is Bruce Belfiore, CEO at BenchmarkPortal. The guest speaker is Susan Wolski, TXU Energy.
The free online radio show will air Wednesday, June 12th, 2013, at 10 a.m. PT/1 p.m. ET. Click here to listen to CallTalk, (http://www.benchmarkportal.com/call-center-newsresources/calltalk-online-radio-show)
About CallTalk
A fun and exciting online program for education and learning, for the customer service industry. Once a month, it broadcasts directly over the Internet to your desktop, and covers informative and educational topics that impact the contact center and customer service today.
About BenchmarkPortal
BenchmarkPortal's founders pioneered the first contact center benchmarking study in 1995. Now custodian of the largest database of contact center metrics in the world, BenchmarkPortal is a leader in certification, training, consulting and research for the customer contact industry. Its team of professionals has gained international recognition for expertise and innovation in best practices. BenchmarkPortal's mission is to help management optimize the performance of their center in terms of both cost and quality, encourage customer loyalty and build enterprise value. For more information on BenchmarkPortal, call 1-800-214-8929 or visit http://www.BenchmarkPortal.com