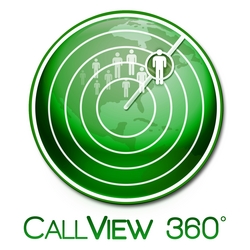 This is the most intuitive version of call tracking software out there
Beverly Hills, CA (PRWEB) March 19, 2009
Call tracking now optimizes not just call center productivity, but marketing performance, as well, with the introduction of call tracking software The software-as-service from Dial 800 -- an update of the company's suite of marketing, call center, sales call tracking, and call recording products -- was first made available to clients last October as a Beta version, and went into full production in 2009. In its introductory quarter, CallView 360° has already far exceeded expectations, dramatically increasing profitability for Dial 800 customers at a time when profits of any kind are difficult to maintain.
Call routing and tracking superiority bring most customers to Call View 360°, but the software's additional applications -- especially analytics, call recording and detailed caller reporting -- have made it a must-have, daily-use tool for its earliest adopters. As calls come in, CallView 360° provides user-friendly menus of sortable analytics and demographic information including the caller's location, age, marital status, and income level. Each call serviced by the software also produces a record of the actual conversation between the caller and call center personnel, giving users of CallView 360° a complete record of exactly who their customers are, what they're looking for, and the service those customers are receiving.
"This is the most intuitive version of call tracking software out there," says James Diorio, Chief Operating Officer of Dial 800, "We're the only company providing all these pieces in one package--advanced call routing; intuitive tracking; call recording; detailed demographics, and our unparalleled library of 800 numbers. We call it optimized marketing because we want our customers to see the return on every dollar they spend and bring in every dollar possible; otherwise, they're leaving money on the table. Response to CallView 360° is even stronger than we imagined and it's providing our customers a return-on-investment even greater than we expected."
Among the new software's many successes stories is its service to Chet Holmes International, which credits CallView 360 with enabling his business to expand into virtual sales at multi-million-dollar, household-recognition levels. Another Dial 800 client and CallView 360 user, SCK Marketing, reported a savings of $80,000 in only a single month of the software's implementation.
CallView 360 is the result of a year-long re-design and re-development of its predecessor, CallView Classic, and is the flagship product in the Dial 800 line of marketing optimization and call center tools. Along with call routing, tracking, and recording, Dial 800 also offers Boomerang as an addition to its new CallView 360 package, a direct fulfillment service which automatically generates mail communication with leads lost (for any reason) over the phone. Although pleased with its spectacular success so far, Dial 800 remains committed to its focus on concierge -- what COO Diorio calls "the lost art of customer service" -- and plans yet another update and improvement of CallView. The new iteration will allow even more user control of its customizable menus, windows, and graphs. That update is expected in the third quarter of 2009.
Dial 800 is a service bureau providing businesses, advertising agencies and direct response marketers with powerful marketing optimization tools designed to increase caller response, sales and ROI.
###