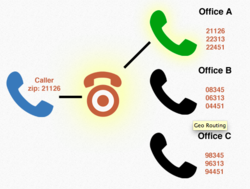 Annapolis, Maryland (PRWEB) May 02, 2012
Call Tracking Metrics announced today the latest release of its call tracking and reporting software, which includes a geo-routing feature to allow advertisers to publish a single phone number and have each call automatically ring to the location nearest the caller.
By implementing one tracking number through Call Tracking Metrics, a business dramatically reduces the number of phone numbers it pays for and simplifies sales and promotion management. In addition, by channeling an incoming lead to the right local sales office, sales cycles are shortened and customer experience is dramatically improved.
How it Works:
The new geo-routing capability enables advertisers to publish a single toll-free phone number in their national or regional ads and have each call automatically ring to the business location nearest the caller. It also provides the option to voice prompt the caller to enter their zip code if the system cannot track their location.
Every incoming call is recorded and tracked in the Call Tracking Metrics system, thereby allowing businesses to review calls for accuracy, training and evaluation purposes.
The receiver will also instantly see the source of each call and important caller information (such as location, name, phone number) in the Call Tracking Metrics dashboard. This information can help the receiver tailor their approach to the conversation and increase conversions/customer satisfaction.
Translating Calls into Better Advertising Results:
At a company level, advertising managers can review reports showing the performance of each of their advertising campaigns. The reports will provide important business intelligence such as overall call volume for each ad, search keywords generating calls, call trends by day and hour, as well as call volume by landing page and referring domain.
"This intelligence is critical in effectively managing a business's online and offline advertising programs. It arms advertising managers for negotiating with their ad reps to get the best performance and price." said Laure Fisher, Call Tracking Metrics' Product Manager. "Time and again we see customers blown away by how much they have been wasting on certain advertising channels and conversely shocked by how well others are performing".
More About Call Tracking Metrics
Based in Maryland, Call Tracking Metrics serves over 1000 agencies and businesses in North America and Canada. Founded by technology veteran, Martin Fisher, Call Tracking Metrics has been ranked as the top call tracking service by topseos.com (an independent authority on internet marketing vendors) for 6 months in a row. The company's primary focus is self service call tracking: a method of designating tracking numbers to each marketing campaign, and tracking and recording incoming calls. Real time reports show the performance of each campaign based on call performance so that customers can make smart decisions in allocating advertising dollars.
For more information about Call Tracking Metrics products and services, visit http://www.calltrackingmetrics.com or call (877) 237-4488.