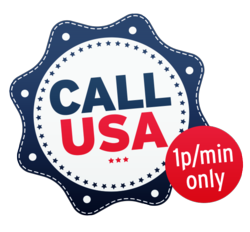 (PRWEB UK) 24 August 2012
It's often said that the UK has a special relationship with the US - this is down to the close historical, political, economic and cultural relations shared by the two countries. And the lack of a language barrier between the two nations means that there are many in Britain who have friends and relatives 'across the pond'.
It's estimated that there is upwards of 600,000 British expatriates currently living in the USA, but with around 3,000 miles of 'pond' separating the two countries, keeping in touch with them is not always easy and often quite costly.
So what exactly are the options for anyone wanting to keep in contact with friends and family over in the States? Let's take a look...
How to stay in touch with relatives abroad
There are now more ways to communicate than ever before; from email to 'snail' mail and internet call to telephone calls, there's never been a better time to stay in touch with people.
But not all of these means of communication are suitable for everyone; for instance, the regular postal service is great for sending cards and parcels for special occasions, but not so good for keeping regular contact. And although emails and instant messaging allow for more frequent contact, neither are a good substitute for actually making a call and having a conversation.
Which leaves internet and telephone calls. Internet calls are great in that callers can both see and hear each other, but if the signal is less than perfect and buffering time is required, this can leave both ends hanging on looking at a frozen screen. Whatsmore, for anyone not on an unlimited broadband plan internet calls can seriously eat into monthly download allowances and help rack up hefty additional bills.
And although the telephone is probably the most reliable and easy-to-use method of instant communication, at anything upwards of 12p per minute, it's too expensive to call USA based friends and family.
That's where access codes come in to their own, as they can cut the cost of phone calls down to just 1p per minute.
But, given the variety of ways in which people can now keep in touch, is there the demand for cheap calls to USA numbers?
The number's up
According to figures from telecom market research firm TeleGeography, there is very much a demand for cheap calls to the USA as 2010 saw 2.9billion minutes of outbound voice traffic from the United Kingdom to the United States of America.
This accounted for 13.7% of the total number of outgoing calls made from UK landlines and made the US the number one international calling destination from the UK.
And, added to the fact that of the 1.3 million British expatriates that live in the USA and Canada, it's estimated that around 24% of these are pensioners, so would probably much sooner receive a phone call than an email or internet call.
How to make cheap calls to the USA
There are any number of websites that offer access codes for cheap calls to international numbers but very few that specialise in cheap calls specifically to the United States.
However, CallUSA is a brand new venture devoted to nothing but making cheap calls to the United States and it's owned by Tulp Solutions, an experienced player in the field of cheap international calls.
In order to make cheap calls to the USA, that will cost no more than 1p per minute, callers simply have to enter the access number 0844 862 862 and wait for connection.
Then enter the full phone number they wish to call, including the 001 international code and area code and then press the hash key (#) to get connected. Unlike internet calls no signup is required, which means no usernames, no passwords and no credit or debit card numbers are taken.
Callers who use the service will simply be billed via their normal landline provider, be that BT, Sky, Virgin, Talk Talk or whoever, and calls are billed at just 1p per minute whatever time of day, whatever day of the week.
This number can also be dialled to make cheaper calls from mobile phones, but mobile providers will add a surcharge so calls will cost more than the standard 1p per minute.
And, the website even has a handy little feature that displays the time in four separate time zones; London, New York, Chicago and Los Angeles so callers don't have to panic about giving their friends and relatives an unwanted, or at least unexpected, call in the middle of the night!