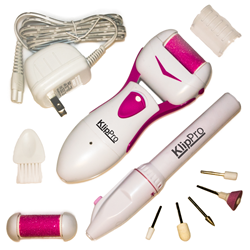 This thing is AMAZING!! I have been fighting dry heals and calluses on my feet for years. I have tried all sorts of products and files. This is far the best product I have tried! It does a great job of filing the dry spots down without hurting your feet.
Cary, NC (PRWEB) May 22, 2016
Whole Health Supply announces that its new FF-200 rechargeable callus remover with separate manicure set is being well-received by customers. There have been no negative or even neutral reviews on this product.
Unlike higher priced callus removers one may see in television commercials, the KlipPro model is electric. Users do not have to hunt for the right sized batteries, which saves quite a bit of time and money in comparison. The entire kit comes with the callus remover, an extra roller remover and the separate battery-operated five-piece manicure set.
This callus remover features a lightweight, ergonomic handle, meaning it's easy to grasp and hold on to during use without slipping out of your hands. The callus remover rollers are coated with micro mineral particles to gently and effectively smooth away dead, hard, and dry skin by spinning 360 degrees without interruption.
Another benefit for the user is that this unit is waterproof. Individuals who like to soak in the tub until their skin softens can use the roller at that point and really see the dead skin roll off. Calluses are easy to remove as well as dead skin on the heels and sides of feet. The callus remover is CE compliant meaning that this product complies with the latest industry standard product safety directives.
The separate manicure set has everything one would need to get a salon-quality manicure. There are five removable heads for shaping, buffing, and smoothing nails, as well as a diamond cone for removing small calluses, and a small grinder for cuticle care.
It is not unusual for KlipPro to receive strong reviews. "I am so excited about this set. I must confess I was not anticipating it to work as well as it does. I have had a few things similar to this product but they were cheaply made and really didn't make much of an impact on my feet! This callus remover is fantastic. It has a lot of power to trudge through even the roughest feet, and sands them down so they are smooth and pretty once again. My husband laughed at me and said 'Your feet look and feel like a lady's again."
"This thing is AMAZING!! I have been fighting dry heals and calluses on my feet for years. I have tried all sorts of products and files. This is far the best product I have tried! It does a great job of filing the dry spots down without hurting your feet. I have tried a similar product, but a different brand, and it was so rough that it hurt my feet. This one is gentle, yet effective. If you press too hard it will stop working (as a protection to you)."
For more information on the KlipPro FF-200 visit http://www.amazon.com/dp/B01C51P5G0