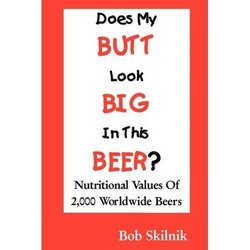 Does My BUTT Look BIG In This BEER?: Nutritional Values Of 2,000 Worldwide Beers
Plainfield, IL (PRWEB) February 18, 2009
Gambrinus Media announced today that "Does My BUTT Look BIG In This BEER?: Nutritional Values Of 2,000 Worldwide Beers" (ISBN-13: 978-0982218204, $10) is now available in book stores and Internet book sites. Author Bob Skilnik has compiled an impressive array of beers, including popular imports, with their nutritional values. Frustrated by the bureaucratic pace of the Alcohol Tobacco Tax and Trade Bureau (TTB) to react to consumer demand and implement new changes in alcohol nutrition labeling requirements, Skilnik contacted brewing industry sources for the kind of nutritional information that might one day be found on the containers of all alcoholic beverages. The result of his research has become a paperback reference book that can be used by dieters counting calories or carbohydrates or by beer drinkers who simply want to know the nutritional values of their favorite brews. Currently, this sort of information is only available on light or low-carbohydrate beers.
"Even if the TTB gave the drink trade the O.K. to add nutrition fact labels to their products tomorrow, the agency would still temper their decision with a 3-year lag period before making it mandatory. To prove a point to critics who say that this kind of consumer-friendly information is unnecessary on adult beverages and to quiet down my doctor who said that my 300-pound body needed a thorough downsizing, I began a weight loss program that included the moderate consumption of my favorite beers, using the nutritional information that breweries have provided me," says the still shrinking Skilnik.
"I'm following a popular brand name weight-loss plan that emphasizes dietary moderation and tracks food and drink consumption by assigning numeric values to them. By making room for a beer or two with my meals and knowing their nutritional values, I've been able to shed weight, and with a supervised program of weightlifting and cardio activities, tone my 'beer belly' from a size 52 to a current 42-inch waist. There are so many beers with their nutritional information in the book that I have yet tried, that I'm determined to stick to this plan and sample as many more of them as I can and get down to my goal of reaching 200 pounds, a 100 pound weight loss in about 1 year."
"While I enjoy the reduced calorie and carbohydrate advantages of low-carbohydrate and light beers, knowing the nutritional values of regular-brewed beers has opened up a new and fun way to shed pounds while enjoying a moderate amount of all kinds of beers. Some regular-brewed beers actually have less calories than light beers. The key to all of this is moderation and the empowerment of knowing the nutritional value of so many worldwide beers. Between "Does My BUTT Look BIG In This BEER?: Nutritional Values Of 2,000 Worldwide Beers" and the website, "Drink Healthy, Drink Smart" (http://drinkhealthydrinksmart.com), there's no reason why any pudgy beer drinker can't shape up before summer begins. As my doctor recently said about my slow but consistent weight loss, 'I don't care what you're doing, but whatever it is…keep it up.'"
Bob Skilnik is a certified brewer and freelance writer. He's been a contributor to the Good Eating Section of the Chicago Tribune and a former columnist for the LowCarb Energy magazine. The Chicago writer has appeared on ABC's "The View," ESPN2's "Cold Pizza," and Fox News Channel's "Fox News Live," preaching the moderate consumption and nutritional aspects of adult beverages. Skilnik is currently working on a similar nutritional research project with wine for summer publication.
"Does My BUTT Look BIG In This BEER?: Nutritional Values Of 2,000 Worldwide Beers" is distributed by Ingram Book Group, the world's largest wholesale distributor of book products. With four distribution centers strategically located throughout the country and the largest inventory in the industry, Ingram provides the fastest delivery available.
###