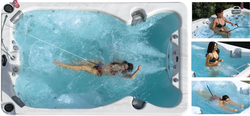 Homeowners are increasingly turning to fitness spas as an alternate to building a pool, particularly when budget is a deciding factor
Pomona, CA (PRWEB) March 18, 2009
Cal Spas introduced today the new F1257 Ultimate Fitness hot tub, a fitness spa designed to serve both as an all-in-one aquatic home gym and as a hydrotherapy spa. Cal Spas fitness hot tubs have grown in popularity over the past year, a fact which the company attributes to a shift in the pool building market.
"Homeowners are increasingly turning to fitness spas as an alternate to building a pool, particularly when budget is a deciding factor," said Casey Loyd, Cal Spas President. "Cal Spas Fitness hot tubs are fully equipped to provide an aquatic gym experience and they offer a spacious area for treadmill swimming, lounging and entertaining."
For homeowners who want a place to splash around without the cost and construction involved in building a pool, a larger fitness spa or swim spa is ideal. Often homeowners are unaware of the availability of larger fitness spas; once they learn about the benefits and features, many find that a fitness spa has the characteristics that they wanted in a pool and more. Some of these benefits include:
-Takes up less outdoor real estate than a traditional pool
-Large sizes are available - up to 16 feet in length
-Smaller body of water costs less to heat saving money and energy
-Gas heater ready
-Adjustable swim jets create a treadmill swimming environment
-Exercise ready
-Optional exercise bands, rowing equipment and accessories for circuit training
-Stereo and entertainment options are available
-Spa seats and massaging features
-Spa Tether ready for swimming in place
Therapeutic Benefits of Fitness Spas for Rehabilitation, Arthritis and Sleep Improvement
Fitness spas can be used for low impact rehabilitation exercises such as kicking while holding onto the spa's grab bar, treadmill swimming and walking in place. Water buoyancy relieves the effects of gravity on joints and muscles, making it easier to exercise. What's more because the fitness spa is heated, those impacted by Arthritis can experience the benefits of a warm water soak and massage in the jetted hydrotherapy spa seats to help relieve pain. Additionally, warm water temporarily relieves stiffness and aches, increasing flexibility. The combination of warm water and more frequent exercise can also aid the sleep process for a more restful night's sleep.
About Cal Spas Ultimate Fitness 1257 Spa
The F1257 spa features a unique European-inspired design with sexy, curvaceous lines that evoke the soothing, fluid contours of the ocean surface. Value added features such as standard vertical waterfalls, the ergonomic exercise support seat, two contoured captain spa seats, and a curved grab bar add to the appeal of the spa and create a luxurious environment. The F1257 also packs a variety of features for fitness, fun and relaxation. As a fitness spa, the F1257 features attachment points for Cal Flex rowing and exercise equipment, as well as a port for the optional swim tether. The swim tether keeps the swimmer stationary and in place for a treadmill-style swimming workout. Owners can also benefit from a variety of other exercises using Cal Flex fitness equipment such as bicep curls, rowing, tricep extensions and chest presses. What's more, the current from the four strong whirlpool jets allows the owner to walk or jog in place against the water current and the grab bar can be used as a stationary kickboard to for great a leg workout.
As a Cal Spas hot tub, the F1257 is easily and conveniently controlled with the push of a button. An advanced, easy to use console controls jets, heat, lights, and features in your spa from one convenient central location. Jet flow can also be adjusted while inside the spa using with controls that are conveniently angled for easy access from within the spa. Jets can also be independently turned on or off and directional jets can be adjusted for a truly personalized spa experience.
Cal Spas® was founded in 1979 as a provider of luxury hot tubs. Today, the celebrated hot tub maker is world renowned as the #1 Global Manufacturer of Home Resort Products™. The company produces premium collections of lifestyle products from its headquarters in Pomona, Calif. and distributes worldwide through a network of specialty dealers. The Cal Spas brand family of products includes Cal Spas hot tubs and swim spas, Cal Designs gazebos, Cal Heat indoor and outdoor saunas, and Cal Flame high-end outdoor grills, outdoor kitchen islands, outdoor fireplaces and firepits. Learn about Home Resort Living and find the dealer near you online at Cal Spas.
Photos are available for download in the Cal Spas Press Room
###