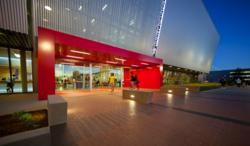 What impressed me most about the building was the level of detail and thought that went into it. It was obvious that every inch inside and out had been thought of—even the solar panels on the roof were tidily lined up.
Irvine, CA (PRWEB) January 18, 2013
The Student Recreation Center, at Cal State Northridge, has gotten people's attention with its eye-catching architecture since its opening in 2012. Designed to incorporate a broad set of programs, for thousands of students, on a tight and narrow site, the center has received a long list of accolades. Recognition includes: American Institute of Architects (AIA) San Diego—Citation and COTE awards; Athletic Business Journal—Facility of Merit Winner; Pacific Coast Builders Conference Gold Nugget Award—Grand Award for Greenest Sustainable Commercial Project; AIA San Fernando Valley—Award of Merit (unbuilt); and AIA Orange County—Award of Merit (unbuilt), to name a few. To celebrate the success of the facility, a short film or mini-documentary, has been commissioned by the project's architects and engineers from California-based, LPA Inc.
View the film, here: http://youtu.be/-K1QDoOs0l8
The film covers the center's every nuance. It shares the story of how the building took its unique form—and how integrated teams of design professionals (architects, engineers, interior designers, and landscape architects) played a key role in the final outcome.
"When we first started the project, we wanted the building to be in a different place, but we didn't have a large enough footprint to achieve what we wanted … the other challenge, from a design perspective, was the length and size of this building—it's longer than a football field," recounts CSU Northridge Student Union Executive Director Debra Hammond. "So, if you look at that, how do you design it in such a way that it is still aesthetically pleasing and functional? I think 'integrated design' and LPA were able to achieve that for us."
Measuring a whopping 138,000 square feet, the center houses two outdoor pools, basketball, volleyball and badminton courts, a comprehensive weight-training and fitness zone, jogging track, and a 40-foot rock climbing wall—the tallest offered by any school in the CSU system.
Produced by wickFILMS, the mini-doc was put together by former LPA employees Andrew Wickham and Lance Hunter. "What impressed me most about the building was the level of detail and thought that went into it. It was obvious that every inch inside and out had been thought of—even the solar panels on the roof were tidily lined up," said Wickham. "It seemed to me to be finished more to the level of a performance hall rather than a recreation center."
In addition to the rooftop photovoltaic array, the facility has many more green design features, which include: displacement ventilation, solar control fins and screens, use of recycled and low-emitting materials, water-efficient California native landscaping, low-flow plumbing fixtures, rainwater harvesting, Forest Stewardship Council (FSC) certified wood products, and natural daylight for 90 percent of the usable spaces. Part of the school's mission to create a "model" sustainable campus, the student recreation center is designed and constructed to achieve Leadership in Energy and Environmental Design (LEED) Gold-level certification.
The Cal State Northridge Student Recreation Center is the first of many new LPA projects that demonstrate the powerful results of using integrated, multi-disciplinary design teams—and the firm is eager to spread the word.
For more information, or to sign up to take a tour of the Student Recreation Center at California State University Northridge, visit src.csun.edu.
California State University Northridge
18111 Nordhoff Street
Northridge, CA 91330
(818) 677-2491
src(at)csun(dot)edu
About California State University Northridge
California State University, Northridge is a regionally focused, nationally recognized university serving more than 34,000 full- and part-time students in the San Fernando Valley and surrounding areas. Founded in 1958, Cal State Northridge is among the largest universities in the nation and is ranked among the top universities for bachelor¹s degrees awarded to minority students. It has nine colleges and more than 2,000 faculty members who teach courses leading to bachelor¹s degrees in 69 disciplines, master¹s degrees in 58 fields and doctorates in education and physical therapy, as well as 28 teaching credential programs. Continuously evolving and changing to meet the needs of California and the nation at large, the university is home to dozens of acclaimed programs where students gain valuable hands-on experience working alongside faculty and industry professionals, whether in the sciences, health care and engineering or education, political science, the arts and the social sciences. For more information, visit csun.edu.
About LPA Inc.
Founded in 1965, LPA has nearly 200 employees with offices in Irvine, Roseville, and San Diego, Calif. The firm provides services in architecture, sustainability, planning, interior design, landscape architecture, engineering, and graphics. There is no "Sustainability Director," at LPA. Instead, more than 80% of the professionals are LEED accredited, including the Human Resources Director, CFO, and several other support staff. With extensive experience in public and private architecture, LPA designs a diversity of facilities that span from K-12 schools, colleges and universities, to corporate and civic establishments. More than 500 major design awards attest to LPA's commitment to design excellence. For more information, visit LPAinc.com.