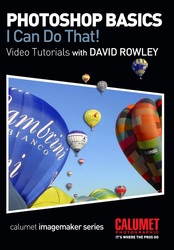 Photoshop is intriguing but intimidating for beginners
Chicago, IL (Vocus) December 6, 2007 –-
In the holiday spirit, Calumet Photographic released the perfect gift for anyone who is digital imaging-challenged. "Photoshop Basics: I Can Do That! Video Tutorials with David Rowley" contains 24 compelling lessons with more than five hours of video content for practical projects. No prior knowledge of Photoshop is required to achieve professional results. Watch, listen and learn from Rowley on the DVD-ROM for both Mac and PC platforms. Photoshop Basics is suggested for use with all Photoshop CS editions.
This is the second DVD in the Calumet Imagemaker Series, a resource of instructional and educational videos designed to empower the world of image-makers. "Photoshop is intriguing but intimidating for beginners," said Steve Sammons, Calumet's Chief Marketing Officer. "David Rowley's approach to digital imaging is a delightful experience. The user-friendly interface allows you find the lessons that you want to learn."
Rowley's tutorials provide tips, tricks and techniques to make Photoshop a pleasure rather than a challenge. Rowley provides an easy-to-understand guided tour through the digital darkroom with his unique insight and affable manner.
Tutorials Include: File Browser, Camera RAW, Keyboard Shortcuts, Layer Adjustments, Image Improvements, Copyright & Text, Correcting Perspective, Blurring the Background, Selective Sharpening, Stunning Reflection, Let it Snow, Let it Snow with Text, Outside the Box, Film Frame Effect, Hot Montage, Hot Montage with Text, Sketchy Montage, Sketch Effect, Black & White Contrast, Black & White Blending, Portrait Makeover, Eye Sharpening, and Stylized Border.
Rowley is a passionate photographer who fell in love with Photoshop at first sight. He divorced his film cameras and joined the digital revolution. He is a regular contributor to Digital Photo Magazine with tutorials that have been used by digital imaging websites worldwide. He speaks professionally to audiences who appreciate his knowledge and demystification of digital imaging.
For more information about "Photoshop Basics: I Can Do That! Video Tutorials with David Rowley," including a free video tutorial, go to http://www.calumetphoto.com/item/CE9920/. The DVD-ROM retails for $39.99.
Calumet Photographic has been helping photographers create extraordinary images since 1939. Only Calumet serves the needs of photographers with an interactive website, professional call center and worldwide retail centers. There are ten stores in the U.S. and 20 stores in Europe.
Contact Information:
Gerry Oher
312.316.6462
gerry.oher@calumetphoto.com
###