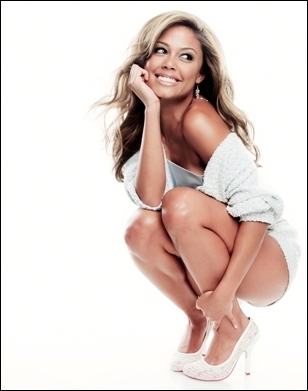 I'm a people person. I like people, and making them comfortable is key
New York (Vocus) April 23, 2007
When the dot-com bubble burst five years ago, Francis Hills found himself unemployed and unmotivated. In a moment of weakness he picked up a point and shoot camera, which began his enlightened journey through the world of celebrity, beauty and fashion photography. On Friday, June 1, The Accidental Photographer opens at the Calumet Photo Gallery, 22 W. 22nd St. in New York. The exhibit, which runs through July 28, celebrates his meteoric rise as a shooting star. Admission is free and open to all ages.
Hills initiated his first brush with fame by writing a personal letter to English actor Alan Cumming. He asked Mr. Cumming, a fellow Brit living in America, if he could take his picture. "Lo and behold, about two days later he called," Hills said with still-fresh amazement. He is now predominantly a celebrity editorial photographer and the exhibition will feature many of his famous subjects including Willem Dafoe, Rosie Perez, Tatum O'Neal, Mya, Will Arnett, Rebecca Gayheart, Natasha Richardson, Vanessa Minnillo, Liz Phair, Chewitel Ejiofor, Mel B, Padma Lakshmi, Shane McGowan, Jay Hernandez, Patricia Clarkson and, of course, Alan Cumming.
The Accidental Photographer also offers a glimpse into something closest to his heart: a philanthropic endeavor to benefit breast cancer research. What began as a project to get his work noticed, Clothing Immaterial morphed into an upcoming book and exhibit of black and white nude portraits to support breast cancer awareness. "I wanted to present a strong statement through my photography to raise simple awareness," said Hills. "But I also wanted to send a message to those women with breast cancer that you're beautiful, no matter what." Francis is dedicating the book and exhibit to his mother, a two-time breast cancer survivor.
More than 60 images will be featured in the exhibition including numerous celebrities, fashion and beauty editorials, Clothing Immaterial images and never-before-seen images he took of the French Foreign Legion in Africa and France for an upcoming book project. All the exhibition images will be available for purchase with all proceeds going to a breast cancer charity to help further breast cancer awareness. Francis is also encouraging some of his celebrity subjects to sign their exhibition images. An additional collection of signed celebrity prints will be going on sale exclusively on eBay in July, again, with the proceeds going to charity.
His strikingly steep climb to the top levels of portrait and commercial photography has been launched by his artistic style and trademark smile. Hills brings out the emotion of his subjects because he connects with them in a genuine way. "I'm a people person. I like people, and making them comfortable is key," he said, flashing that mischievous smile. "Laughter is my favorite thing. I often do my Austin Powers impression. It's corny as hell, but it always get a smile." And that's no accident, baby.
The Calumet Photo Gallery spring schedule opens with Parsons The New School for Design: 2007 BFA Exhibition, May 9 through May 23. The gallery will be open Monday through Friday, 8:30 a.m. to 5:30 p.m.; Saturday 9:00 a.m. to 5:30 p.m. The gallery will be closed Sunday. For more information about Francis Hills, go to http://www.calumetphoto.com/hills & http://www.francishills.com. All images appearing in the gallery will be printed on HP¹s new Designjet Z3100 and Photosmart B9180 Professional Photo Printers using HP professional photo papers.
Calumet Photographic has been helping photographers create extraordinary images since 1939. Only Calumet serves the needs of photographers with an interactive website, professional call center and worldwide retail centers. There are ten stores in the U.S. and 20 stores in Europe.
Contact Information: Gerry Oher • 312.316.6462 • gerry.oher @ calumetphoto.com
*Please contact Gerry Oher if you need a high-resolution image from the Francis Hills exhibit.
###