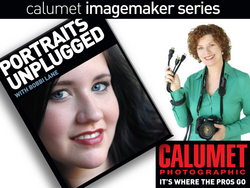 There's nothing more beautiful than what you can find naturally
Chicago, IL (Vocus) September 10, 2007
Calumet Photographic unveiled its new DVD Imagemaker Series of instructional and educational videos with Portraits Unplugged with Bobbi Lane. "We believe our mission is to empower the world of image makers," said Steve Sammons, Calumet's Chief Marketing Officer. "And by producing an original series of instructional and educational videos, we feel like we're helping make a difference for anyone who wants to embrace photography."
In her first Calumet DVD, Portrait Lighting Techniques, commercial photographer and photo educator Bobbi Lane showed you how to capture stunning portraits in a studio setting. In her new DVD, Portraits Unplugged, she applies those same time-tested principles to shooting with ambient light. Calumet's own Gerry Oher joins Bobbi for a relaxed, straightforward lesson exploring three simple yet essential rules guaranteed to help you produce beautiful portraits anytime, anywhere. "It's so important to look for the light," explained Bobbi Lane. "This DVD shows how to recognize a flattering lighting situation and make the location work as an effective background."
With this DVD, you will learn to shoot in different natural light conditions, from harsh overhead light to dappled shade, as well as metering for correct exposures. You will see Bobbi simulate studio techniques like Rembrandt, Loop and Butterfly lighting while using reflectors and diffusers to control shadows and enhance moods. Bobbi also explores the best times and locations to optimize available light, ending with a dramatic beachfront demonstration at sunset.
Portraits Unplugged proves you do not need expensive lights to shoot great portraits. "There's nothing more beautiful than what you can find naturally," says Lane. "This DVD will show you how to take pretty pictures, and that's something everyone wants."
For more information about Portraits Unplugged with Bobbi Lane, including a video trailer, go to http://www.calumetphoto.com/item/CE9910/. The DVD retails for $39.99.
Calumet Photographic has been helping photographers create extraordinary images since 1939. Only Calumet serves the needs of photographers with an interactive website, professional call center and worldwide retail centers. There are ten stores in the U.S. and 21 stores in Europe.
Contact Information:
Gerry Oher
312.316.6462
# # #