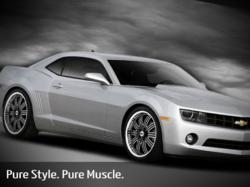 Huntington is proud to produce aftermarket Camaro wheels in sync with the car's extraordinary acceleration, precise handling dynamics and head-turning looks
Huntington Beach, CA (PRWEB) February 13, 2012
Huntington Engineered Alloy Wheels (http://www.huntingtonmusclecarwheels.com/ ) has announced two new engineered wheels for the popular new Chevy Camaro. Now, aficionados of this reborn iconic muscle car can add upgrades with chrome Camaro Wheels, black Camaro wheels and silver Camaro wheels that match the style and performance of 2010-2012 Camaro coupe.
Huntington Engineered Alloys manufactures wheels exclusively for modern muscle cars and has raised the bar in the custom wheel aftermarket with the introduction of the Bolsa and Springdale models, both available for those looking for 18" Camaro rims, 20" Camaro rims and 22" Camaro rims. All are available in staggered fitments.
The Bolsa model's classic five-spoke design sets off the inspired, crisp design of the modern Camaro and is available finished in either chrome or gloss black with a machine- cut face and lip. Springdale custom wheels feature an aggressive ten-spoke design that complements the Camaro's muscular styling. Springdale wheels are available in silver or gloss black, both with a machine-cut face and lip.
The Chevy Camaro's suspension is designed to support a staggered footprint, giving the Camaro its trademark wide stance and breathtaking traction. Huntington wheels has responded with precision-engineered wheel sets with rear Camaro wheels up to 2" wider than front wheels and offsets from 25 to 38 mm, is sizes ranging from 18x9 to 22x11. All wheel specifications are available at http://www.huntingtonmusclecarwheels.com/camaro-wheels-rims. Look for the "Configurator" button in the top navigation bar to visualize how each wheel would look on your vehicle.
"The resurgence of muscle cars in recent years has spurred interest in aftermarket wheels such as the Bolsa and Springdale," commented Terence Scheckter, president of Huntington Engineered Alloy Wheels. "Huntington is proud to produce aftermarket Camaro wheels in sync with the car's extraordinary acceleration, precise handling dynamics and head-turning looks," Scheckter added. All Huntington wheels are hub-centric for a smooth, vibration-free ride. The wheels accept OE TPMS sensors and OE Center caps. Huntington muscle car wheels are built to strict manufacturing standards while maintaining the lightest possible weight.
Huntington Engineered Alloys is a new line of aftermarket wheels customized specifically for the unique offsets and varied widths required by the Chevy Camaro, Ford Mustang, Dodge Charger and Dodge Challenger, and are designed to clear the larger brakes of modern muscle cars. A detailed application guide for all Huntington Engineered Alloy Wheels and for each of these muscle cars is also available at http://www.huntingtonmusclecarwheels.com/. You can find a Huntington Alloy Wheel dealer in the United States or Canada at that website or by dialing 888-766-7775. Huntington Engineered Alloy Wheels are part of the TSW family of automotive wheel companies. TSW wheels are born of a rich racing heritage. Founded by a former Formula One racing driver, TSW has been involved in motor racing around the globe for over 30 years.
###