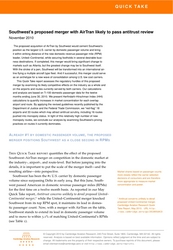 We find the most cause for concern in Baltimore and Orlando which together account for more than 80% of passengers traveling along red-flagged routes.
Cambridge, MA (PRWEB) November 12, 2010
The proposed merger between Southwest and AirTran is unlikely to be blocked on antitrust grounds according to a new report from Cambridge Aviation Research. The Quick Take report, "Southwest's proposed merger with AirTran likely to pass antitrust review," uses domestic market share data to estimate the effects of the proposed merger on competition at the industry-, airport-, and route-levels. The report quantifies likely reductions in competition for each overlap market using the Herfindahl–Hirschman Index and compares them to merger guidelines recently updated by the Department of Justice.
"We find more airports and routes red-flagged in our analysis of this proposed merger than for United-Continental, but fewer passengers are likely to be affected," said Jeffrey Breen, president of Cambridge Aviation Research and lead author of the report. The report similarly red-flags 33 routes, including 16 pushed into monopoly status. "We find the most cause for concern in Baltimore and Orlando which together account for more than 80% of passengers traveling along red-flagged routes," Breen added, "but competitors are already established at these airports who could choose to serve many of these routes."
Key findings include:

The proposed merger would return domestic market concentration to the levels of the late 1990s. Even on the heels of the recent Delta-Northwest and United-Continental mergers, the combination of Southwest and AirTran would merely return the market to the levels of competition present in the late 1990s and well below the DOJ's threshold for "moderate" concentration.
At the airport level, 18 U.S. airports are red-flagged for increases in market concentration exceeding DOJ guidelines. From most-affected to least: Baltimore (BWI), Chicago Midway (MDW), Orlando International (MCO), Houston Hobby (HOU), Tampa (TPA), Indianapolis (IND), Fort Meyers (RSW), Columbus (CMH), Buffalo (BUF), Milwaukee (MKE), Jacksonville (JAX), Fort Lauderdale (FLL), San Antonio (SAT), New Orleans (MSY), Kansas City (MCI), St. Louis (STL), Palm Beach (PBI), and Las Vegas (LAS).
Of the 33 routes red-flagged, 16 are pushed into monopoly status. The red-flagged route list includes the combined carrier's second-busiest route, Baltimore-Orlando, whose one million annual passengers stand to lose airline choice as this proposed merger pushes the route into monopoly.
The Quick Take report is 18 pages long, contains 8 figures, and 4 tables (also provided in expanded spreadsheet form) and is available for purchase and download from http://www.cambridge.aero/store
About Cambridge Aviation Research
Cambridge Aviation Research has provided custom research and analysis to select industry clients since 2005. With the recent launch of syndicated research offerings, our insight and analysis can help a wider audience navigate these challenging times for the industry.
# # #