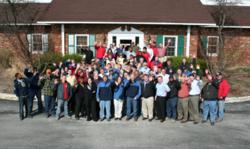 As a family owned and operated business, we know our employees will always be the company's greatest asset.
St. Louis, Mo (PRWEB) December 19, 2012
The Fabricators & Manufacturer's Association (FMA) selected Cambridge Engineering as one of three tour sites on their October 23rd LeanFab Workshop & Tours. Cambridge was later featured in FMA's publication, The Fabricator Magazine and recognized as a manufacturing company that treats all their employees as people first and workers second.
Cambridge Engineering, Inc. is leading manufacturer of energy efficient industrial space heating and ventilation equipment. The company is located in Chesterfield, MO just west of St. Louis.
"As a family owned and operated business, we know our employees will always be the company's greatest asset," said John Kramer, Jr., President. "We hire individuals that want a career at a manufacturing company where the goal is to constantly exceed expectations. That's why we have the best people, doing their best work to design and build the best heating equipment for our customers. This simple approach has worked at Cambridge for almost 50 years and is the key to our success."
Cambridge offers all employees the opportunity to contribute their ideas to the continuous improvement of the company and its products. Teamwork is a fundamental part of the work ethic at Cambridge, including active and frequent interaction with management and monthly updates on company achievements. Lean manufacturing is a key component to the Genuine Cambridge commitment for providing the best on-time delivery and highest overall product quality to their customers. Despite the company's growth and success, family values still apply at Cambridge. For example, every full-time employee gets to celebrate his or her birthday by taking a day off from work.
A few years ago, the St. Louis Post-Dispatch identified Cambridge Engineering as one of the best places to work in the region. They were selected based on ranking high in the "Best Corporate Culture" category. Tim Heston at FMA also recognized the great corporate culture and trust at Cambridge by saying, " One of our tour guides was Bruce Kisslinger Sr. Of the hundreds of shop managers I've met over the years, Kisslinger has one of the most memorable job titles: Vice President, Quality, Keeper of the Corporate Culture . Several minutes into the tour, he put his job title into action. And it wasn't just promoting continuous improvement initiatives—though he certainly pointed out many of them … For Bruce Kisslinger and everyone else at Cambridge Engineering, employees are people first, workers second."
About Cambridge Engineering, Inc:
Established in 1963, Cambridge is a manufacturing company with strong R&D, engineering and customer oriented problem solving capabilities. Energy efficient Genuine Cambridge space heaters, infrared radiant heaters and make-up air units save energy, reduce operating costs and improve indoor air quality for a wide variety of commercial and industrial facilities. Sales, installation and technical support throughout North America is provided by an experienced network of factory trained sales representatives, service technicians and mechanical contractors. Cambridge Engineering is ENERGY STAR Partner.
For more information, visit our website http://www.cambridge-eng.com or call 800-899-1989