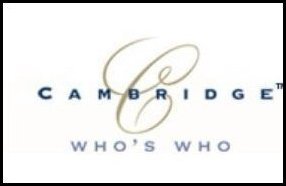 Washington, DC (PRWEB) January 5, 2007
Edmund S. Rittner, Ph.D., has been named Professional of the Year in Scientific Research and Development by Cambridge Who's Who. While inclusion in Cambridge Who's Who is itself an honor, only one member in each discipline is named Cambridge Who's Who Professional of the Year. The Cambridge selection committee hand picks these special honorees based on accomplishments, academic achievement, leadership, and service.
Rittner is an expert on the origins and elimination of environmental pollution. Having published more than 50 scholarly papers during his career, he has recently completed what he believes are "the most important papers I've ever produced," and is seeking a publisher. The papers are titled "Elimination of the Most Egregious US Environmental Pollutants and Global Warming Mitigation" and "Control of Global Warming via Transition from a Carbon-Based to a Hydrogen-Based Fuel Economy."
After earning his doctorate at MIT, Rittner was employed by MIT, Philips Labs and COMSAT Labs before retiring in 1985. Rittner's many contributions to the fields of chemistry and physics are in the areas of photoconductivity, thermionic emission, and solar cell development .
Rittner received the Founder's Award from the Institute of Electrical and Electronics Engineers (IEEE) for his contributions to solar cell development. He is a Senior Fellow of the American Physical Society and a Fellow of the IEEE. For information on the significance of Rittner's prior publications, visit http://www.environmentalpollutioncenter.us or email Rittner at mitphdchemist (at) yahoo.com
About Cambridge Who's Who
The mission of Cambridge Whos Who is to ensure that Cambridge members receive recognition, support and credibility to advance their careers. Cambridge Who's Who is also committed to delivering the highest quality networking resource for job recruitment, career enhancement and new business development.
Cambridge Who's Who members have exclusive access to the biographical information of more than 200,000 successful executives, professionals and entrepreneurs at http://www.cambridgewhoswho.com, where they use the database to share information, knowledge and services. Communication via the Cambridge Who's Who registry travels in two directions, enabling Cambridge Who's Who members to reach out when they have a business need or opportunity as well as receive information on exciting new ventures.
Contact:
Victoria Mitchell
516-535-1515, x 230
###