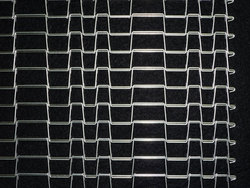 Cambridge, MD (Vocus) September 19, 2008
Cambridge International, the world's largest manufacturer of metal conveyor belting, announces its participation in the most important event of the year for the tortilla industry, the Tortilla Industry Association's 19th Annual Convention & Trade Exposition. The event will take place on September 29 - October 1, 2008 in Las Vegas, NV.
Producers, suppliers, and others involved in the tortilla industry will be present to explore and share their newest ideas and innovations. The event will feature materials, equipment, and services exclusively for the tortilla industry, with all the major contacts to network with in one place.
Cambridge International will be featuring its newest metal belt product, DURAFLEX™, at the Expo. Used on food processing conveyor systems, DURAFLEX™ is the most open metal belt available that does not compromise belt strength.
Benefits of DURAFLEX™ include splicing in as little as 30 seconds without weaving, special tools or welding using Cambridge's Kwik Connect Splice Rod. Splicing is done from the side of the belt rather than from the middle and does not create a weak point; allowing snag free operation. DURAFLEX™ also produces less stretch than flex-style belts, and is very easy to clean.
Tortilla makers in particular benefit from DURAFLEX™'s superior cooling characteristics utilizing ambient air, as no extra cooling chamber is required when using DURAFLEX™.
Cambridge also has the ability to custom make DURAFLEX™ in a variety of opening sizes to handle any range of product sizes.
To learn more about DURAFLEX™ metal belting, visit the Cambridge International exhibit booth at TIA Booth # 309 & 311. You may also visit http://www.cambridge-intl.com/duraflex, email your request to duraflex @ cambridge-intl.com, or phone toll-free at 866-211-8824.
About Cambridge International, Inc.
With a heritage that dates back to 1911, Cambridge International is a leading wire fabricator, with a customer base that spans the world. The company's products are used in a wide variety of applications and industries. Cambridge International is recognized for forging committed, long-lasting relationships with its customers. Known from its earliest years as a pioneer in engineering and manufacturing precision-fabricated metal products, today Cambridge International continues to develop innovative product solutions for customers across many different industries and applications.
###