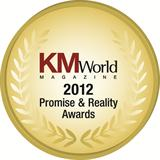 Cambridge Semantics is helping customers build solutions that give knowledge workers better understanding of information regardless of where it comes from.
Boston, Ma (PRWEB) November 06, 2012
At the 2012 KMWorld Conference, Cambridge Semantics was named the winner of the 2012 KMWorld Promise Award. The award recognizes an organization that is not only providing innovative technology solutions for implementing and integrating knowledge management practices into business processes, but is also driving positive business results.
Cambridge Semantics' Anzo software was selected for its ability to bring unprecedented flexibility to the development, deployment and evolution of knowledge management applications. The award also recognizes the company's Pharma Competitive Intelligence Solution and the value it delivers to some of the world's top pharmaceutical organizations.
"Cambridge Semantics has a unique approach to knowledge management that makes it a worthy recipient of this year's Promise Award," said Hugh McKellar, KMWorld Magazine Editor-in-Chief. "By focusing on the practical value of the Semantic Web, Cambridge Semantics is helping customers build solutions that give knowledge workers better understanding of information regardless of where it comes from."
Cambridge Semantics' Anzo is an open platform for building Unified Information Applications, driven by Semantic Web technologies. Anzo solutions integrate unstructured data with enterprise sources of structured data into fully interactive applications. Unlike traditional knowledge management tools, Anzo allows users to collect and edit new data, and also to push changes to data back to existing systems of record. In addition, Anzo allows data models to change as needed enabling organizations to make solution adjustments as business requirements change.
"We're honored to win the 2012 KMWorld Promise Award," said Lee Feigenbaum, co-founder of Cambridge Semantics. "By giving knowledge management professionals a better understanding of the data they're working with, in the language they are used to, we're helping them discover new relationships, classify and analyze data in meaningful ways. This award is further validation of the value we're bringing to customers, following Information Management's selection of us as a top vendor to watch and winning the Bio IT Best of Show award earlier this year."
About KMWorld
KMWorld (http://www.kmworld.com) is the leading information provider serving the Knowledge Management systems market and covers the latest in Content, Document and Knowledge Management, informing more than 45,000 subscribers about the components and processes - and subsequent success stories - that together offer solutions for improving business performance. KMWorld is a publishing unit of Information Today, Inc. (http://www.infotoday.com).
About Cambridge Semantics
Cambridge Semantics is the leading provider of semantic data management software for the enterprise that is designed to bridge the gap between business processes and data-driven business intelligence. Enterprises face an increasing need to quickly combine diverse data that crosses organizational boundaries in order to make better decisions and improve process efficiencies every day. Our Anzo software lets business users search for, virtualize, analyze, act on, and make decisions with any internal or external, structured or unstructured data. Based on the revolutionary flexibility of Semantic Web technologies, Anzo provides unprecedented ease-of-use, speed of implementation, and operational business process integration for just about any formal or informal business activity.
To learn more about Cambridge Semantics visit http://www.cambridgesemantics.com and check out our blog "Enterprise Semantics" or follow us on Twitter @CamSemantics.