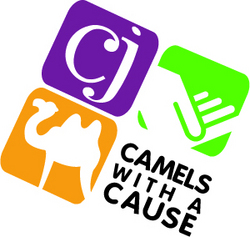 I'm so grateful for everyone at cj Advertising and Camels with a Cause for helping me and my family while also creating awareness about arthritis
Nashville, TN (PRWEB) April 14, 2009
Nashville-based cj Advertising and its charity fundraising initiative, Camels with a Cause (CWAC), have announced its latest mission -- helping raise funds for the Arthritis Foundation and fund research toward new medications to fight debilitating diseases.
Helping One of Our Own:
CWAC's most recent effort is being led by Jason Clark, cj's Development Team Lead, whose wife, Zoni, was diagnosed with juvenile rheumatoid arthritis at the age of 12. Now, as a mother of three young children, Zoni knows firsthand how the effects of arthritis can make even the simplest activities, such as tying her children's shoes, impossible.
"I'm so grateful for everyone at cj Advertising and Camels with a Cause for helping me and my family while also creating awareness about arthritis," Zoni said. "These walks have helped fund research that has led to the development of treatments to make the lives of those who suffer from arthritis less painful."
On Sunday, April 19, the members of CWAC along with many other community members will participate in the Goodlettsville/Sumner County Arthritis Walk at Moss Wright Park in Goodlettsville. The goal of the walk is to raise awareness and funds to fight arthritis, the nation's most common cause of disability. This year's Walk Honoree is Tiffany Cripps, a hairdresser who contracted rheumatoid arthritis in 2004 from a virus her sons had.
"The severity of arthritis never seems to get the attention it deserves because it's usually seen as a natural part of aging," Jason said. "Many people, however, don't realize the impact arthritis has on people of all ages. While it's typically not life-threatening, it is life-altering and can make even the simplest of tasks impossible."
The members of CWAC have divided into teams and set donation goals for Sunday's walk. The donations raised will help fund research for arthritis treatments and, currently, CWAC has raised $5,318.64 for the event. The CWAC teams participating in the walk are the Raging Dolphins, Russell's Mussels, Show Me the Money, Sparkle Motion, and Walker Texas Rangers.
Arthritis--More than an "Age Thing":
There are more than 100 forms of the disease, and they can affect people regardless of age, sex, or race. Although most people associate arthritis with osteoarthritis and old age, this disease affects children as well. More than 300,000 children suffer from some the effects of some form of this disease. In the United States alone, more than 46 million people suffer from a form of arthritis, which includes lupus and fibromyalgia.
The Goodlettsville/Sumner County Arthritis Walk will be held at Moss Wright Park located at 745 Caldwell Lane in Goodlettsville, Tennessee. Registration for the walk begins at 2 p.m. and the walk begins at 3 p.m. Live music will be provided by Garage Band Revival.
To Learn More:
Those interested in learning more about CWAC or in supporting the Arthritis Foundation can visit http://www.CamelsWithACause.com. All the funds raised by CWAC will support the Arthritis Foundation.
About Camels with a Cause:
Camels with a Cause (CWAC) is designed to serve as cj Advertising's conduit of support for one deserving charitable opportunity three times a year. The project is empowered by a staff of more than 50 at the agency with one hundred percent of raised funds being donated to charity. By the staff members at cj contributing their talents--such as Web design, copywriting, production, and graphic design--to this project, it has become a true team effort. Staff members are encouraged to nominate their favorite charities with the only requirement being that they must tap into their passions to lead the charge to fulfill a need for that charity. If the staff member commits to chairing the event, the agency will fully support that employee and respective charity for the period.
CWAC's previous efforts include raising more than $23,000 for the Leukemia and Lymphoma Society as well as helping a fellow cj employee launch his five-year dream of creating a nonprofit organization dedicated to providing aid to Jamaicans. CWAC also organized a food drive for the Second Harvest Food Bank of Middle Tennessee and helped collect more than 200 presents for the Salvation Army's Angel Tree Program.
About cj Advertising:
Established in 1994, cj Advertising is a leader in the creation, promotion, and distribution of legal advertising. The Nashville, Tennessee-based agency currently produces advertising campaigns for 38 law firms in 60-plus markets nationwide. All cj Advertising clients are market exclusive. The independently owned agency focuses on consulting, media placement, custom commercials, progressive Web sites, print ads, and public relations. Visit http://www.cjadvertising.com for more information.
###