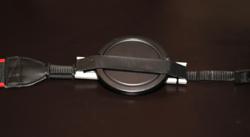 I'm relying on the Kickstarter community to give me the proverbial green light.
Baltimore, MD (PRWEB) August 24, 2012
Cap Gorilla – the latest camera lens cap holder to hit the market – is out-of-the-gate and featured on crowd funding behemoth Kickstarter.com, allowing interested camera owners to back a promising "be all, end all" for photographers who are tired of looking for their lost or misplaced lens caps while out snapping shots.
"I got sick of searching through pockets or retracing my steps," says Martin Lotz, creator of the Cap Gorilla family of lens cap holders. "It has become a running joke amongst friends… the art of photography is not nearly as difficult as trying to locate your lens cap," Lotz adds. Saying 'enough is enough,' Lotz fortified a plan to do something about the problem, designing a versatile lens cap holder that is effortless to use for photographers of all skill levels.
Formulated from the mind of an engineer and photographer, Lotz's Cap Gorilla is simple in its installation and purpose, yet sophisticated in its versatile, minimalist design. The ultimate benefit? Ensuring lens caps are securely held close at hand, never again lost on photo shoots, or disappearing deep into the seemingly bottomless abyss of misplaced camera accessories.
Cap Gorilla is injection molded in ABS plastic in two available sizes, or CNC-machined from Aircraft-grade 6061 aluminum in its PRO size offering. There have, of course, been other lens cap holders, but none that really compare when it comes to the valuable features exhibited by Cap Gorilla.
In short, the Cap Gorilla:
● Works flawlessly with any size lens cap.
● Holds memory cards, batteries, and most other photo accessories.
● Offers a lightweight and unobtrusive design.
But while Cap Gorilla is vying for the title of King of the cap holder jungle, consider Kickstarter the deciding vote, as the website holds the final say in taking the accessory from much-hyped problem solver, to purchasable, feel-it-in-your-hands product solution.
"The effort to go from concept sketch to functioning prototype has been harder than I ever dreamed," Lotz reveals. "Getting to that point where I felt Cap Gorilla was ready to take on the market resulted in two major redesigns," he elaborates. "I told myself I would not move forward with funding until I was in prime position to take on the market. Now, through years'-worth of work and more prototype testing than I care to cop to – I'm now 100% certain that Cap Gorilla is a real solution; I'm relying on the Kickstarter community to give me the proverbial green light."
For Kickstarter, the site has received praise-a-plenty of late, operating as an innovative crowd funding source for "creative projects" from thinkers who are big on imaginative products, but maybe a bit short on initial funding. From films, video games – and as Cap Gorilla has shown – accessories and other items, Kickstarter makes investing easy, gathering monetary commitments from interested parties (aka real people who choose to endorse products they believe will soon be successful), in return for some type of reward or gift based on their outlay level.
The beauty for these investors is that they choose to commit as little – or as much – money as they want to a product, from $5 to $199 or more in Cap Gorilla's case, while also receiving some type of tangible value in return. Specifically, Lotz is offering limited edition Cap Gorilla models, family packs, and even prints of concept sketches for his supporters. In the end, Kickstarter is delivering the obvious fundraising benefit to the stakeholder; and backers profit as well, as they choose to invest in an idea that could the next "big thing."
"It shows a relatively obvious point: that not all the big ideas come down the mountain on a stone tablet by a major corporation," said Kickstarter co-founder and CEO Perry Chen in a recent interview. "There are really creative people out there that are doing things on their own."
For Lotz, being featured on Kickstarter is seemingly the "biggest step" amongst a list of many others already taken by the avid photographer. And while the outcome surely won't make or break his camera lens cap holder, Lotz is hoping a funding victory is a clear snapshot of many gorilla-sized successes for the product in the not-so-distant future.
About Cap Gorilla
Safe and secure, Cap Gorilla is the versatile and effortless-to-use camera lens cap holder that grips your lens cap with the resilience of a silverback – ensuring you'll never fumble with or lose a camera lens cap again. Simple strap installation equipped with a dependable silicone band, Cap Gorilla provides lasting benefits for the rest of your photo-taking life. Strong, tough, and sleek, Cap Gorilla has solved the former annoyance of babysitting your camera's lens cap. Manufactured in the United States. Relieve your lens cap headaches with Cap Gorilla.