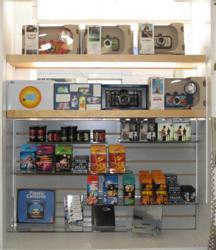 We are now carrying Konova Sliders for all your video needs.
San Francisco, CA (PRWEB) March 23, 2012
San Francisco's Adolph Gasser Photography camera shop and photography lab has always been committed to providing its customers with the best camera equipment available today, both still photographs and video.
"We are now carrying Konova Sliders for all your video needs," Leah, of Adolph Gasser Photography, said. "While supplies last we are having a pearl filter blowout with UV's for $5 and polarizers for $10. Various sizes are still available."
Adolph Gasser Photography is also offering a discount on online printing. Simply go to their online printing website http://www.gassers.lifepics.com/net/Default.aspx and enter the code "newbie" in at check-out to receive 20 percent off of a customer's first order.
Camera technology has come a long way since 1950 when Adolph Gasser Photography first opened their doors, but the store has been ahead of the curve on every major camera innovation.
"Although we still provide exceptional dark room and photography lab services for film cameras, we are also able to provide expertise in digital cameras as well," Leah added. "Adolph Gasser Photography also offers video and still rental cameras. For all of your camera shop needs, come inside to Adolph Gasser Photography today."
For more information about cameras or about Adolph Gasser Photography's other products and services, call 415-529-4501 or visit gasserphoto.com. Customers are encouraged to stop buy a visit the shop at 181 Second Street San Francisco, CA 94105.
About Adolph Gasser Photography
Finding the right camera can be a daunting process, but the process is a snap at Adolph Gasser Photography. The store offers a variety of products and services. Among them are plastic cameras, accessories, medium format and 35-mm specialty films from Holga & Lomography including the new Sardine Camera. The photography lab offers processing services, video transfers, still/audio/video/lighting rentals, used equipment, digital camera sales, audio/video sales, U.S. & Mexican passport photos and free customer parking.