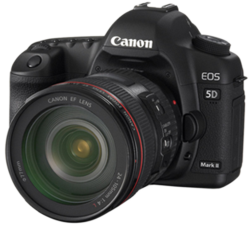 We have the Canon 5dmkIII in stock and a great selection of lenses, and other camera bodies like the Canon 5dMKII, 60D body and kits
San Francisco, CA (PRWEB) July 07, 2012
San Francisco's Adolph Gasser Photography camera shop and photography lab is committed to providing its customers with the best new and rental camera equipment available for still photographs and video. Now, the San Francisco camera shop is announcing the availability of the Canon 5dmkIII and a various selection of camera lenses and other photography services.
"We have the Canon 5dmkIII in stock and a great selection of lenses, and other camera bodies like the Canon 5dMKII, 60D body and kits," John Gasser of Adolph Gasser Photography said. "We still process film as well, such as color(c-41), black and white, and transparency (e-6), in our in-house lab. We can also print your digital images from our kiosks or online at http://www.gassers.lifepics.com, and you can also download the application for your phone from lifepics to send photos from your phone."
For customers who already have a digital camera, Adolph Gasser Photography offers in-house sensor cleanings with 24-hour turn around up to two weeks. Prices vary on the time requested for the service.
"Looking for used gear? We have used/consignment lists on our website for you to look, and they are updated weekly," Gasser said.
For more information about Adolph Gasser Photography's products and services, call 415-529-4501, view the camera shop on the Web at http://www.gassersphoto.com or visit 181 Second St. in San Francisco.
About Adolph Gasser Photography
Adolph Gasser Photography is a camera store, audio/video store, photography lab and rental house that has served the Bay Area's photography needs since 1950. It has been a constant among professionals and hobbyists for the sale and the rental of still and video cameras, lighting and motion picture equipment.
Its rental departments offer a large variety of equipment, allowing clients to rent an item or try it out prior to actually purchasing it. Adolph Gasser Photography also sells used camera equipment.