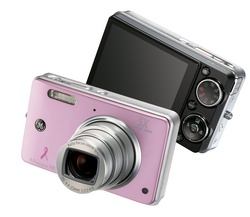 We are very honored to be back on HSN again, because we've had great success there
TORRANCE, Calif. (PRWEB) October 3, 2007
HSN will offer a limited-edition GE camera during October, which is National Breast Cancer Awareness Month. A permanent pink ribbon adorns the highly polished aluminum face of the camera to signify General Imaging's commitment to the fight against breast cancer. The GE H855 will be offered exclusively by HSN during an Oct. 20 broadcast - and also online at http://www.hsn.com.
For every unit sold, HSN will donate a portion of proceeds to Susan G. Komen for the Cure, one of the leading organizations fighting breast cancer and promoting awareness of the disease.
Available in either hot metallic pink or elegant black, the H855 is a special-edition version of GE's popular E850, offering 8 megapixels of resolution, a 3-inch LCD screen, 5X zoom and a 28-mm equivalent wide-angle lens.
In an HSN exclusive, the H855 will come with a sleek black carrying case, as well as an exclusive software package from ArcSoft, including PrintCreations Greeting Card, PrintCreations Scrapbook, CD & DVD LabelMaker, DVD SlideShow, and PhotoImpression.
"We are very honored to be back on HSN again, because we've had great success there," said Hiroshi "Hugh" Komiya, Chairman & CEO of General Imaging. "We are also honored to play a role in finding a cure for such a devastating disease as breast cancer."
"It's exciting to think that, the more cameras we sell, the greater our contribution will be," said Rene Buhay, General Imaging's Senior Vice President of Sales and Marketing for the Americas. "We hope that everyone whose life has been touched by cancer and who happens to be in the market for a digital camera will consider the H855."
The Oct. 20 engagement will mark the third time that GE digital cameras have appeared on HSN. The May 1 appearance of the ultra-compact G1 served as the worldwide retail launch of GE digital cameras. GE's 10-megapixel E1040 went on sale at HSN on July 22.
"The G1 and the E1040 went over big on HSN, and the H855 should really connect with our viewers," said Sandy Conrad, Senior Vice President, Merchandising with HSN. "Not only are these cameras a great buy, they're also helping a worthy cause."
All GE cameras offer such advanced features as panorama stitching, face detection, red-eye removal, image stabilization and ISO 1600 sensitivity. These features are all embedded in the camera, meaning no additional software is needed. GE cameras also offer movie mode, continuous-shot mode, and a variety of special scene modes - all at prices far less than many of their competitors.
HSN reaches 89 million U.S. households through TV and is the fourth-largest cable network in the U.S. Its partners' products are also available online at http://www.hsn.com.
An independent new company based in Torrance, Calif., General Imaging unveiled eight cameras on March 8 during PMA 07, the leading industry photographic trade show in Las Vegas. More information on the H855 and the rest of the GE digital camera line is available at http://www.ge.com/digitalcameras.