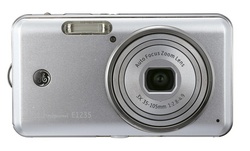 We're delighted to once again serve as the launch pad for a quality GE camera
TORRANCE, Calif. (PRWEB) March 11, 2008
HSN will offer the brand-new E1235 at the special introductory price of $199.95, including a black camera case and an ArcSoft software package including Print Creations Greeting Card, Print Creations Scrapbook, CD & DVD LabelMaker, DVD Slideshow, and PhotoImpression. The camera is also available online at http://www.hsn.com.
Available in either deep red or silver, the E1235 offers the highest resolution of any camera yet in the GE lineup. The E1235 also includes a 2.7-inch LCD screen, 3X zoom and ISO 3200 sensitivity.
The GE E1235 is one of the first cameras on the market to include blink detection and smile detection, ensuring that the user captures just the right moment in people shots. After a shot is taken, the blink detection feature alerts the user that the subject's eyes were closed and allows another attempt. The smile detection feature works by tripping the shutter automatically when the subject smiles.
As with all GE cameras, the E1235 allows users to "see the bigger picture" with in-camera panorama stitching. This feature allows the user to join three images together seamlessly to take in wide scenes - without first having to upload the photo to a computer.
And like all GE cameras, the E1235 boasts sleek and intuitive design, face detection, image stabilization, and red-eye removal.
The E1235 will be the fourth GE digital camera to appear on HSN. The first was the ultra-compact G1 on May 1, 2007, which served as the worldwide retail debut for the camera brand. Other cameras sold on HSN were the E1040 and the HSN exclusive H855.
"We are pleased that we can launch another GE camera on HSN, because we've had great success there," said Hiroshi "Hugh" Komiya, Chairman & CEO of General Imaging.
"HSN has been a very influential space for us to extend our brand," said Rene Buhay, General Imaging's Senior Vice President of Sales and Marketing for the Americas.
"We're delighted to once again serve as the launch pad for a quality GE camera," said Sandy Conrad, Senior Vice President, Merchandising with HSN. "Our viewers have taken to the GE cameras in large numbers, and we think they'll do it again with the E1235."
In an HSN exclusive, the E1235 will come with a sleek black carrying case, as well as an exclusive software package from ArcSoft, including PrintCreations Greeting Card, PrintCreations Scrapbook, CD & DVD LabelMaker, DVD SlideShow, and PhotoImpression.
HSN reaches 90 million U.S. households through TV and is the fourth-largest cable network in the U.S. Its partners' products are also available online at http://www.hsn.com.
An independent new company based in Torrance, Calif., General Imaging unveiled the first-ever line of GE digital cameras in March 2007, setting a new standard for high-quality, feature-rich cameras that offer excellent value. More information about the entire line of GE cameras is available at http://www.ge.com/digitalcameras.