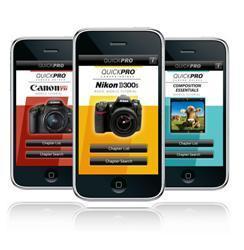 Hyrum, UT (PRWEB) March 16, 2010
Hyrum, Utah, QuickPro Camera Guides, the leading producer of multimedia Camera Guide tutorials, announces the release of 10 iPhone applications for select digital camera models and photography subjects, with many more to follow. Photography enthusiasts around the world will now have "ready- to-go" instruction of advanced camera functions when and where they need it. Simply type "Quickpro" in the Apple App Store to choose a professional video photography lesson, hosted by Emmy Award Winner Todd Hansen, for your specific camera model or advanced photography subject.
With iPhone and iPod Touch Camera Guides from QuickPro, you will never have to miss the shot of your life again. Whether it's that birthday surprise, graduation ceremony, or your daughter's wedding day, the ability to take a photo like a Pro is within reach. It's literally in your pocket. Easy to use, full color video guides for the world's leading camera models are available for quick reference and review on your Apple iPhone.
Developed by iPhone training specialists, Netframes, the QuickPro Comprehensive Camera Guides provide:

Instructional video on all aspects of photography and camera.
On-the-go video playback. No WIFI required after inital install for watching in the field.
Interactive search to find information on particular camera features.
Online customer support.
Email QuickPro camera guides from the iPhone Application for 20% off the purchase of any QuickPro Camera Guide Series available at quickprocameraguides.com
Camera Model Titles Include:
Nikon D5000
Nikon D 300S Basics
Nikon D 300S Advanced
Nikon D 3000 Basics
Nikon D 3000 Advanced
Canon T1i
Photography Subjects Include:
Composition Essentials
Using Light
Exposure Basics
Photography Tips
Coming Soon:
Canon XSi
Nikon D90
Nikon D60
Models from Olympus and Pentax
###