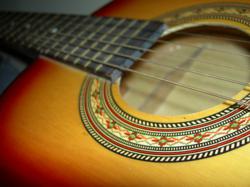 Los Angeles, CA. (PRWEB) November 28, 2012
Taylor Swift won the Favorite Country Female Artist at the 2012 American Music Awards in, but her award was somewhat overshadowed by presenter Eric Stonestreet's comedic performance. According to Entertainment Weekly's Popwatch.com speculation about whether Stonestreet was drunk began to circulate almost immediately. A recent report from the music blogsite, musicloversblog.com helped clear up any confusion, reporting that despite Stonestreet's own admissions of being tipsy, his comedic performance at the show isn't likely to do is career any harm.
The Music Lovers Blog article highlighted how speculation about Stonestreet's seemingly drunk behavior arose almost immediately amongst AMA viewers and Cameron Scott Tucker fans, but was quick to praise his comedy timing and entertaining performance. Their article went on to add that Stonestreet's character, Cameron Scott Tucker, is one of the most popular characters on television. Stonestreet is the recipient of two Primetime Emmy Awards for Outstanding Supporting Actor in a Comedy Series. He plays a gay family man, Cameron Scott Tucker, alongside his co-star, Jesse Tyler Ferguson. Ferguson happens to be openly gay off of the screen, in addition to playing a gay character on the show. The pair's portrayal of a gay couple on primetime TV is a source of criticism, controversy, acclaim and ratings for ABC.
The recent article from MusicLoversBlog.com further added that Stonestreet's inebriated appearance on live TV may be new and interesting to fans, but is unlikely to tarnish the reputation of his participation in one of the most successful shows on television. "Modern Family" has received numerous nominations and awards in every season since its inception. Most notably, the Television Critics Association nominated "Modern Family" for best new series, best comedy series, and best program of the year in 2010, the show was nominated for 17 Emmys in 2011, won two Primetime Emmy Awards in 2012, and received the Screen Actors Guild Award for Outstanding Performance by an Ensemble in a Comedy in 2010.
Eric Stonestreet will continue to play Cameron Scott Tucker on "Modern Family". After his AMA performance, there might even be new Stonestreet fans tuning in to the ABC show.
About Music Lovers Blog
As an independent music news, reviews and opinion website, Music Lovers Blog aims to help people further their appreciation of music. Music Lovers Blog doesn't allow labels and genres to stand in the way of music. If you are looking for an independent objective take on music you can find more information at http://www.musicloversblog.com