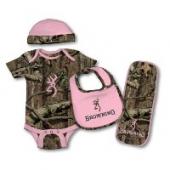 Outfitting Fun & Safe Baby Nursery Items and Apparel
(PRWEB) January 21, 2013
To provide a great experience for baby shower guests, there is an array of new home gift items on Just Camo's online retail store of products. Guests attending the affair can choose from a wide selection of baby apparel, all with different camouflage patterns. There are many quality items on-hand at reasonable prices, including baby camo baby shower invitations.
Get in the spirit of the outdoors and theme your baby shower with a unique style. Even camo patterned paint, to color baby's room, adding a bit of spunk.
With all this to choose from, couples welcoming their first child or parents who are preparing for another baby can really become overwhelmed.
The key to a great baby shower is making the guests feel at home. The first step in the planning process is to decide on the crib. Start with the sheets and dust ruffle. Matching is fine, but sometimes contrasts work best. Add a comforter that complements the other room dressings and you're off to a good start.
Think about how to turn the ordinary into the extraordinary by making the baby's room into a hunting haven. A lodge theme works well with camo. A bit of imagination can go a long way. Imitating a hunting lodge by adding some wall mounted trophies and a bear skin rug.
Now, you can incorporate more elements into your theme. For instance, a diaper stacker or diaper genie is an excellent addition. You can always combine items with functionality. A fleece is a great way to keep baby warm and a swaddling blanket is another idea. The trick is to extend the style from the crib, which is generally the centerpiece of a nursery, out to the rest of the room.
Guests always want suggestions on what to get for a baby shower. Party favorites are a necessity, but there's more. An embroidered bib, pajamas, a babies onesie or other clothing items are a perfect gift idea and, for those parents with children, it's a good idea to pick up a gift or two for them so the siblings don't feel left out.
Choose a cake and some appetizers that people of all ages can enjoy--finger food is always a hit and nearly a hassle-free clean-up. A big stress saving tip is to have a friend or family member take over the planning stages, while giving the new mom the rest she needs.
About Just Camo
Just Camo offers all different types of camouflage products to bring living outdoors to the indoors, and to make outdoor hunting, camping and relaxing more fun. Since 2003, Just Camo has offered unique hard-to-find quality camo products for individuals seeking that one-of-a-kind gift to buy for any guy, gal, girl, boy or now, babyThe new line of baby products added to this online retailer only further accentuates these qualities to a new demographic that deserved products of their own.
For additional information, please contact Just Camo USA at; 262.643.4648 or 877.214.7015. Information is also available by emailing:sales(at)justcamo(dot)com or by visiting the website at: http://www.justcamo.com