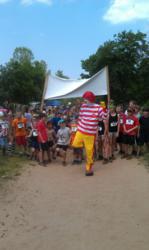 Atlanta, GA (PRWEB) September 13, 2012
RegPoint solutions, and Payscape Advisors are excited to work with the Ronald McDonald house charities of Arkoma. The mission of the Arkoma Ronald McDonald house is to create, find and support programs that improve the health and well-being of children in Western Arkansas and Eastern Oklahoma. They host a variety of events throughout the year, whose goal is to foster the well-being and progress of young lives.
Regpoint's online registration management system enables Ronald McDonald event organizers and participants to complete registrations online, process payments securely, manage registration data and communicate directly with attendees via e-mail, as well as handle a host of other organizational needs. Payscape Advisors will oversee the processing of all payments in conjunction with RegPoints' organizational capabilities.
"Partnering with the Ronald McDonald house charities of Arkoma is very exciting for everyone at RegPoint Solutions. We are also pleased, that through our relationship with Payscape Advisors we can offer a turn-key solution for their events, which will further enable this excellent program to grow" said Jeremy Wing, President of RegPoint Solutions.
About RegPoint and Payscape Advisors
Regpoint delivers innovative, SaaS registration management solutions to the multiple industries it serves. Since originally being founded in 1999 in Denver, CO, RegPoint has successfully handled hundreds of thousands of registration transactions across the nation. The company has grown from a one-man operation to a team of dedicated account managers, IT staff and national sales representatives.
Payscape Advisors makes it simple for businesses and individuals to collect money by accepting credit cards, sending bills, collecting donations, or processing online registrations. Founded in 2004, the privately held company has grown to include a national sales force, with account managers throughout the country. Payscape offers a full suite of financial products and services, including: Credit & Debit Card Processing, Mobile Applications, e-Commerce solutions, Virtual Terminal Packages, Gift Cards, Online Invoicing, Online Registration management, Merchant Cash Advance, Point of Sale & ATM Leasing and Sales.