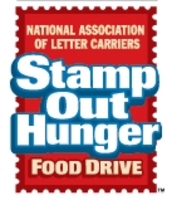 More than 49 million Americans live at risk of hunger
Chicago, IL (PRWEB) March 29, 2010
Feeding America's David Arquette and Courteney Cox are joining the National Association of Letter Carriers in their annual fight to Stamp Out Hunger across America on Saturday, May 8th.
Now in its 18th year, Stamp Out Hunger is the nation's largest single-day food drive. With help needed now more than ever before, drive organizers hope to exceed last year's record-setting total of 73.4 million pounds of donated food, as well as surpass one billion pounds of food collected over the history of the effort.
Members of Feeding America's Entertainment Council, Arquette and Cox are supporting the letter carriers by appearing together in radio and print public service announcements. Both promote the campaign and urge Americans to help their neighbors in need by simply leaving a sturdy bag containing non-perishable foods, such as canned soup, canned vegetables, pasta, rice or cereal, next to their mailbox prior to the time of regular mail delivery on Saturday, May 8.
Arquette, the chairman of Feeding America's entertainment council, also is appearing in a television public service announcement and an online video which was posted today to the drive's YouTube channel (http://www.youtube.com/StampOutHunger2010 ) as well as its Facebook fan page (http://www.facebook.com/StampOutHunger ) where each new fan results in a one can of soup donation from Campbell Soup Company to Feeding America (up to one million cans).
"More than 49 million Americans live at risk of hunger, so please join me, Courteney and millions of other generous Americans on Saturday, May 8 by placing a non-perishable food donation next to your mailbox to help the National Association of Letter Carriers Stamp Out Hunger," said Arquette.
Also supporting the letter carriers' efforts this year are Campbell, the U.S. Postal Service, Valpak, the National Rural Letter Carriers' Association, the AFL-CIO and United Way Worldwide.
ABOUT STAMP OUT HUNGER
For more information on the 2010 Stamp Out Hunger food drivefollow us at http://www.twitter.com/StampOutHunger or text STAMP3 to 30305* to sign up for mobile reminders.
*Up to 3 messages total. Message & Data Rates May Apply. Text STOP to end, HELP for info. Terms and conditions at http://www.abl.bz/soh .
###