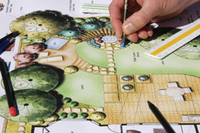 An attractive well planned landscape speeds up the sale of a home by 5 to 7 weeks AND can add between 7% and 15% to the value of a home.
Alexandria, VA (PRWEB) February 16, 2010
Homeowners in Northern Virginia, The District of Columbia or nearby Maryland, ready to explore all the possibilities for improving their homes, indoors and outdoors, need to attend this timely show.
The show features more than 150 elegantly appointed design vignettes showcasing interior and exterior luxury home improvements. DC Metro area gourmet food purveyors will sample their specialties, and there will also be tastings of hard-to-find wines, spirits and artisan brews.
Since Campbell & Ferrara is participating (Booth #109), the show has provided the company with 200 free tickets-for-two, valued at $30 each, to distribute to existing and prospective clients.
Homeowners wanting one of the tickets-for-two should click here to complete an online form sent directly to the company. Tickets will be mailed the first week in March. Only 200 free tickets-for-two are available, one per respondent, first-come, first-served.
In addition, show attendees who visit the Campbell & Ferrara's booth and sign-up for a landscaping project will be eligible to receive a free one-hour, on-site landscape consultation with a professional landscape designer, including a full evaluation of their property, a landscape concept, and a proposal.
Customers who complete, or pay for, their projects before April 30, 2010 will receive 25% off project-related, in-stock woody trees and shrubs, with additional discounts on select hardscape materials installed as part of the project.
Landscaping can improve a home's market value. In the Washington Metro market, every dollar spent on landscaping and hardscaping returns $1.35 in value. Homeowners planning to stay in their homes for awhile get the personal satisfaction of creating and transforming their landscape into an enjoyable family- or entertaining-friendly outdoor living environment complete with beauty, style and functionality. For homeowners ready to put their homes on the market: the new enhancements to landscaping improves neighborhood competitiveness and increases curb appeal. As written in a recent Wall Street Journal article, "An attractive well planned landscape speeds up the sale of a home by 5 to 7 weeks AND can add between 7% and 15% to the value of a home."
Bottom Line: Cost savings on the project, increased home value, and the joy of living in a home with beautiful gardens and distinctive outdoor living spaces that's the envy of the neighborhood.
The company's Landscape Designers are experts in landscape construction and work directly with the client, and in-house foremen, crews, stone masons and carpenters, throughout the entire project, to ensure the objectives are met and the project successful. Designers are also professional horticulturists who care about the environment: they understand the importance of designing gardens and landscapes with environmental sustainability and green friendly footprints. The designers and skilled landscape craftsmen, masons and carpenters together have over 198 years of combined experience. They embrace the company's goal of transforming outdoor living environments and enhancing lifestyles by providing outstanding customer service, affordable quality landscapes, plants and products to each client.
There are only 200 available, so click here right now to get a free ticket-for-two to DC Metropolitan Food, Libations, & Luxury Home Show, March 27-28, 2010, at the Gaylord National Harbor.
About Campbell& Ferrara Outdoor Living®
Campbell & Ferrara Outdoor Living ® is a landscape design/build company and garden center in Alexandria, Virginia. Our 2nd generation family-owned business has been providing outstanding customer service, award-winning landscape design and installation services, and high-quality plants and garden products to area homeowners since 1945.
###