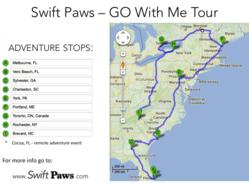 SylvanSport is the coolest company ever. They've been so incredibly supportive of my crazy adventure and I'm thankful to the whole SylvanSport crew!
Brevard, NC (PRWEB) April 23, 2013
Meghan Wolfgram started her three-month journey with a SylvanSport GO, SylvanSport's unique camping trailer. One of three finalists of SylvanSport's "Coolest. Camper. Ever." Adventure Contest, Wolfgram is the first participant competing to see who has the best vacation with their GO pop up camper.
"Winning was an incredible feeling," says Wolfgram. "I was pet sitting shelter puppies when I got the email, and after reading the first sentence I began emitting a high pitched noise that the puppies found deliriously entertaining."
Wolfgram and her fellow finalists, Aaron Smith of Burnsville, NC and Gregory Heil of Dahlonega, GA, are competing for a grand prize of more outdoor gear and a GO camping trailer of their own. At this stage, the three finalists have already won outdoor gear packages from sponsors including Black Diamond, KEEN, Jackson Kayak, Kelty, Wenger, Grand Trunk, Orbea, SPOT GPS, and Yakima.
"SylvanSport is the coolest company ever. They've been so incredibly supportive of my crazy adventure and I'm thankful to the whole SylvanSport crew!"
Wolfgram set off from her home town of Melbourne, FL, to travel northward to Toronto on the east coast, stopping in ten cities along the way:

Melbourne, FL
Vero Beach, FL
Sylvester, GA
Charleston, SC
York, PA
Portland, ME
Toronto, ON, Canada
Rochester, NY
Brevard, NC
At each stop, she will host a lure chasing charity event cross-promoting her own company, Swift Paws, makers of a unique dog lure pet toy, as well as aiding the communities of the ten cities visited along the trip. Attendees are encouraged to ask more about Swift Paws, lure chasing, and GO camping trailer.
"I love the fact that lure chasing is a game the dogs enjoy even more than their owners. It's fun, exercise, and howling good entertainment all in one."
Using a motor, string, and a chase object like a plastic bag or fluffy chew toy, owners set up a course that takes a dog on a wild high speed pursuit. "Swift Paws is letting the dogs out."
Joining Wolfgram is lure chaser extraordinaire, Pretzel, her 6-year-old red miniature pincher. "Pretzel is the sole reason why I became involved with lure chasing to begin with. He's up for hiking, biking, kayaking, he's big on mid-day naps, and doesn't complain too much. I can't think of a better adventure companion."
Lure chasing is a high-energy activity for dogs of all breeds. "It started as a way for me to get involved in more dog activities than just agility. As more and more people wanted a machine just like the one we'd built, my business partner, John Ritter, and I expanded to keep up with demand. Now we're a small operation based in Melbourne, FL."
Swift Paws and lure chasing's appeal has grown beyond individual dog owners. "Our customers range from dog owners, doggy businesses, shelters and rescue organizations, and even zoos where they use Swift Paws as an enrichment activity for their cheetahs."
Attendees of the lure chasing events are asked to bring a charitable donation of dog food or money.
"The more I thought about the adventure I was describing the more I realized what a great opportunity this would be to involve the community and support local dog charities. I didn't have all ten cities in mind when I began planning. In fact, I chose my cities based on where I could put together the best events and what charities I could benefit most."
Wolfgram's cumulative charity goals for all ten events are 840 pounds of dog food and $10,000 to share between the charities.
At the end of the three months, Wolfgram will have traveled from Florida into Canada across 15 different states with the GO pop up camper in tow. Her final destination is Brevard, SylvanSport's pop up camper workshop and headquarters in Western North Carolina.
"Meghan was chosen for her obvious enthusiasm, the careful planning of her trip, the number of miles covered, and of course her love of animals and the unique sport that she has spearheaded," says Kyle Mundt at SylvanSport.
To follow Meghan on her trip, visit her website AdventureWolf.com for regular updates, and to learn more about and watch video of lure chasing, visit the Swift Paws website SwiftPaws.com. To learn more about SylvanSport GO pop up campers, visit SylvanSport.com.