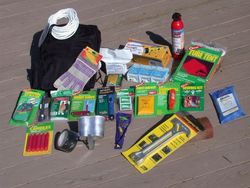 We like helping customers personally
Fulton, NY (PRWEB) March 18, 2009
JHL Supply and Camping Survival.com are pleased to announce the unveiling of the new web store at Camping Survival.com, a comprehensive online retailer of camping equipment, wilderness survival and urban survival gear.
The new web site is better organized for easy navigation, and customers will find it easier to locate their favorite products. Camping Survival.com has also added a New Arrivals section and a Best Sellers section, both of which will add to the convenience of shopping.
From its launch in 2002 by JHL Supply, Camping Survival.com quickly earned a reputation as an online authority on camping and survival gear, creating a loyal following of customers. As a former Marine and veteran of the 1991 Gulf War, Sciacca recognized the importance of disaster preparedness to any family and ensured that his product offerings included urban survival equipment, such as "go bags," first aid kits, water filter systems, colloidal silver and MRE (Meals Ready to Eat).
This forward-thinking approach meant that Camping Survival.com was prepared for the huge demand for MRE and other items in the wake of several natural disasters, such as Hurricane Katrina, Hurricane Rita and Hurricane Wilma, as well as wildfires in the western US and in Florida.
"Our focus has always been helping people find the very best camping and wilderness survival equipment," said Tom Sciacca, President of JHL Supply. "We were ahead of the general trend when it came to promoting disaster preparedness, and we continue to look for ways to help people stay prepared. Our new informational site, Urban Survival Stories.com, features first person accounts of disaster survival and recommendations on how to stay prepared for unforeseen circumstances."
"Rescue personnel can't respond instantaneously to everyone who needs help," he continued. "An emergency survival kit or 'go bag' provides essential items individuals or families should have in the event of a natural disaster, such as MRE (Meals Ready to Eat), first aid kit and other items. We provide customers with guidance on which items are essential depending on a buyer's geographic location and their living environment."
The new Camping Survival.com web site is cleaner and offers more intuitive navigation, making the foremost online expert in camping supplies and survival gear even more enjoyable to shop. As always, customers can order conveniently online or contact a sales representative by phone for assistance or questions about a particular product.
With a product selection numbering more than 16,000 items, Camping Survival.com's strong emphasis on customer service is an essential part of keeping customers happy.
"We like helping customers personally," Sciacca concluded, "but having the very best web interface will make it that much more convenient for them to shop online for camping, wilderness or urban survival equipment."
Contact: Tom Sciacca
http://www.CampingSurvival.com
# # #