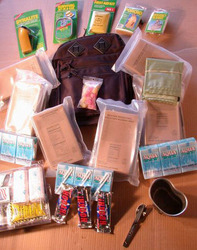 Beginning February 24, our web site will announce the first in a series of five giveaways that are going to be hugely popular with customers
Fulton, NY (PRWEB) February 23, 2010
In the aftermath of the snow storm that crippled Washington, DC, Philadelphia and other east coast cities, CampingSurvival.com reports brisk sales of emergency supply kits, urban survival kits and other equipment to assist people in weather emergencies and natural disasters.
Company President Tom Sciacca also noted that the Camping Survival Facebook fan page has quickly surpassed 10,000 Facebook fans, owing largely he says, to word-of-mouth referrals by existing customers. He is using the opportunity to announce a series of unprecedented giveaways on the company's web site in the coming weeks.
"Beginning February 24, our web site will announce the first in a series of five giveaways that are going to be hugely popular with customers," Sciacca remarked. "I can't reveal what the giveaways are until each one is announced, but you'll be able to find out by becoming a fan of our Facebook page."
He reported that the popularity of emergency kits, "go bags," MRE (Meals Ready to Eat), and first aid kits has greatly risen in recent years, as more families recognize the importance of being prepared in a crisis.
"We're fortunate that that we haven't had a natural disaster of the magnitude that hit Haiti," Sciacca said, referring to the Haitian earthquake that left hundreds of thousands without basic necessities such as food and purified water. "Nevertheless, we still have the likelihood of a winter storm that can keep people stuck in their homes for days, sometimes weeks."
Because rescue personnel can't respond instantaneously to everyone who needs help, but an emergency survival kit or "go bag" provides essential items individuals or families should have in the event of a natural disaster, such as MRE (Meals Ready to Eat), first aid kit, water filter, radio and other items. Go bags are especially helpful in the case of short notice evacuations, such as in the Los Angeles area wild fires of this past December.
Sciacca emphasized the growth in CampingSurvival.com's fan base as the result of word-of-mouth referrals about their expertise, as well as quality products and exciting contests. Their milestone achievement on their Facebook page has driven them to their biggest giveaways to date.
Sciacca, a former Marine and veteran of the 1991 Gulf War, launched CampingSurvival.com in 2002, and quickly earned a reputation as an online authority on camping and wilderness survival gear, creating a loyal following of customers.
Some survival kits, he explained, are made to help an individual or a family escape quickly, while others can sustain them for long periods in one place, without electricity or water. Many contain MRE (meals ready to eat), first aid kits and water purification. Water purification is especially helpful when municipal filtration systems are affected by power outages, and stores get overrun with customers seeking bottled water. Meals Ready to Eat (MRE) are non-perishable and can be prepared much more easily than typical household food, making them much more convenient in an emergency.
"Whether it's an urban survival kit, a go bag or some combination of emergency supplies, it's critical for Americans to seriously consider the well being of their family," Sciacca continued. "I think our upcoming giveaways and contests will continue to keep customers coming back to us for all of their survival needs."
Contact: Tom Sciacca
http://www.campingsurvival.com
http://www.facebook.com/pages/Fulton-NY/Camping-Survival/48301221510
###