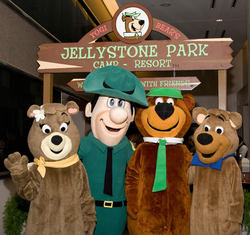 Cincinnati, OH (PRWEB) March 18, 2010
Leisure Systems Inc., the franchisor of Yogi Bear's Jellystone Park Camp-Resorts, has announced new features and benefits to help celebrate the one year anniversary of their innovative family camping loyalty program - Club Yogi Rewards.
Launched on April 1st of 2009, Club Yogi Rewards has surpassed the 30,000 member threshold, more than double the number of guests who participated in various discount card programs previously sponsored by Leisure Systems. Since members earn benefits based upon their accumulated spending across all 75 Jellystone Park Resorts in the U.S. and Canada, the program now provides specific visibility into the spending habits of its best customers. "The development of the marketing database for our total brand, and the information provided by the loyalty program to our franchisees, has enabled the entire enterprise to identify, retain and maximize business potential from our most valuable guests," said Rob Schutter, President and COO of Leisure Systems. "We have used the program as a platform to understand our best customers camping needs, profile their characteristics and preferences and deliver relevant offers to them which increase the family campgrounds' business performance. The database marketing potential will have significant implications on the future of our brand and business model."
To help celebrate the one year anniversary, Club Yogi Rewards will introduce added benefits for the 2010 camping season. In addition to redeeming points for free nights at any Jellystone Park, Club members will now be able to redeem their rewards points for selected Yogi Bear branded merchandise. "The merchandise assortment is quite popular with the kids," notes Michele Wisher, Marketing Director at Leisure Systems, "and provides the program with some redemption options at lower point thresholds than a free night at one of our campgrounds." Additionally, the program will launch some highly unique auction events where members can bid their points for special, one-of-a-kind family oriented experiences. "The auctions," notes Wisher, "will create fun, excitement and unparalleled levels of reward to compliment the overall brand."
Club Yogi Rewards is a free program that is unlike any other best customer initiative offered by campgrounds across the U.S. and Canada. The program abandoned the traditional fee-based discount card approach that is common in the camping industry in favor of offering all guests the opportunity to earn free camping nights based upon their total spending at any park in the system. There are no restrictions on the type of accommodation a member can earn for free and no blackout dates. Points are earned for dollars spent regardless of the payment method used to purchase cabin rentals, RV spaces, tent campsites or retail purchases at the Park store. Points accumulate from season to season as long as a guest stays active in the program. Preferences and other opt-in survey data help drive program communications, e-mail offers, the club newsletter and a special birthday gift program for the kids. Members can earn additional points for participating in surveys and booking campsite or cabin reservations for special promotional periods throughout the year.
"We launched in the face of an economic downturn one year ago," says Schutter. "We eliminated discounts and replaced them with points accrual - which our industry traditionally avoided. Our first year results were exceptionally strong, margins held and our best customers tell us they love the new program."
Since launch, Leisure Systems has worked with Reward Paths, a loyalty marketing services firm, to provide the program operations and management system for Club Yogi Rewards. "We could not have done this by ourselves," says Wisher, "and the auction platform and new campaign management functions coming in 2010 are a direct result of Reward Paths capabilities that were already built-in for program enhancements." The Reward Paths loyalty system enables the Marketing Team at headquarters, the individual park locations and the program members to all access the complete platform with nothing more than a web browser. Reward Paths hosts the member facing website, the auction engine and the loyalty management system used to support the entire program.
About Leisure Systems, Inc. and Jellystone Park Camp-Resorts
Launched in 1969, the Yogi Bear's Jellystone Park Camp-Resort system is the second largest chain of campgrounds in the United States, boasting 75 campgrounds with over 15,000 tent and RV campsites in 28 states and Canada. Jellystone Park Camp-Resorts, which focus on the family camping market, are among the best campgrounds in the industry with a quality reputation for being fun, friendly, clean and service-oriented parks. Additionally, each Jellystone Park is themed with Yogi Bear elements providing instant recognition and consumer appeal. It is truly a place "Where You Camp with Friends."®
Yogi Bear Jellystone Parks are franchised through Leisure Systems, Inc (LSI), a wholly owned subsidiary of the Park River Corporation, Cincinnati, Ohio. For more information about Jellystone Parks, visit http://www.campjellystone.com.
About Reward Paths
Reward Paths is a full service marketing firm specializing in helping mid-market companies design, enable and operate reward, loyalty and incentive programs for their customers and associates. Reward Paths offers affordable, best of breed technology especially well suited to the consumer marketplace. The company also provides reward program service to B2B clients serving professional, institutional and trade audiences. Reward Paths LLC is majority owned by Incentive Solutions Limited (ISL) of Auckland, New Zealand. For more information, visit http://www.rewardpaths.com.
###