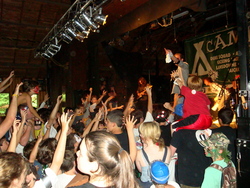 Their artists were camper-friendly. It really became an interactive event.
New York (PRWEB) August 26, 2009
In its 8th and most successful summer, the CAMPLIFIED tour played in front of 40,000 teens and tweens at over 35 different camps. CAMPLIFIED is a nationally recognized musical endeavor, providing teens and tweens at summer camps the experience of a rock concert, complete with the VIP/backstage experience.
The brainchild of Aimee Berger and Carl Freed (of Trevanna Entertainment), CAMPLIFIED was conceived in 2001 when Berger, frustrated by the dwindling monies being set aside for artist development within the record industry, had the idea to get back to grass-roots marketing.
"I started reminiscing about the good old days at summer camp," recalls Berger. "I wanted to put a tour together that would bring emerging artists into the camps where there's a captive and receptive audience."
Berger partnered with Primary Wave Music in 2008 to help expand the Camplified brand with sponsors and create a digital community, htttp://http://www.camplified.com for campers online. "The CAMPLIFIED event is a unique marketing vehicle for both brands and bands during the summer, but best of all, the digital community being constructed at htttp://http://www.camplified.com will allow the bands, brands and campers to interact long after camp ends," says Berger.
At CAMPLIFIED events, the campers are able to interact with the performers, and participate inage-appropriate sponsored activities such as a Rock Band Competition presented by MTV Rockband. This year, other sponsors included Little Brown Books, Cartoon Network, YuGiOh, Scholastic Books, Ian's Natural Foods, HP Computers and Sonicbids.
Lisa Ickowicz of Little Brown Books says, "It's great for the sponsoring companies because they are able to reach their target audience to promote products while also adding to the kids' camp experiences." Ickowicz adds that the company wanted to jump on board because CAMPLIFIED events seemed like the perfect place to merge different forms of art, "It's a great situation for the kids because not only are they having fun at camp, but they get the added experience of seeing a great new band or meeting a favorite author".
Doug Pierce, the owner/director of the Pierce Country Day Camp said, "CAMPLIFIED did an outstanding job involving the kids," says Pierce. "Their artists were camper-friendly. It really became an interactive event."
The bands/artists included Jaicko, 2AM Club, Kicking Daisies, Duke Squad, Loomis and the Lust, Lauren Frost, Jersey Kidz, Misha Williams, Lansdowne, Taylor Bright, Phil Bensen, Rick Seibold and Faces Without Names.
Press Contacts:
Primary Wave Music
Justin Shukat
212.661.6990
Tiffany Bakker
tiffanybakker (at) y7mail (dot) com
About Primary Wave Music Publishing and Marketing
Primary Wave is one of the largest music publishers and music marketers in the United States. It is a global music company that markets its unique repertoire, which includes an interest in the Beatles songs written by John Lennon, the catalogs of Kurt Cobain/Nirvana, Steven Tyler/Aerosmith, Daryl Hall & John Oates, Robert Lamm, Jimmy Pankow, and Lee Loughnane of the band Chicago, Maurice White (Earth, Wind & Fire), Steve Earle, Lamont Dozier, Daniel Johnston, Bo Diddley, Holly Knight, Sara and Janna Allen, Justin Furstenfeld/Blue October, Six Degrees, Marvin Hamlisch, The Matrix music production team, Tennessee Ernie Ford, and approximately 3,000 titles from a major film music publishing catalog as well as a 50% interest in the original music company Think Music.net, a joint venture with Pulse Music. In addition, Primary Wave has co-publishing deals with The Airborne Toxic Event, Anberlin, Saving Abel, Shwayze, Albert Hammond Jr, New Boyz, John Forte, The Boxer Rebellion, Matt Serletic and Emblem Music Group, Saxon Shore, Steve Morales, Taddy Porter, and The HitterZz as well as marketing and administration agreements with Graham Parker, Katrina and The Waves, Reveille, Evolution Entertainment/Twisted Pictures, QED, Team Baby Entertainment, Andy Razaf, Reggie Watts, Ray J, and Gregg Allman. Primary Wave is based in New York with offices in Los Angeles and Austin, Texas.
###