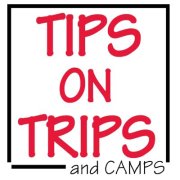 There are many things to consider when you are trying to keep the cost of summer programs down.
Baltimore, Maryland (PRWEB) February 28, 2013
Tips on Trips and Camps ("Tips") - one of the oldest camp advisory services in the country – suggests ways to afford the price of sleepaway camp for your child.
"There are many things to consider when you are trying to keep the cost of summer programs down," says Tips co-owner Eve Eifler.
First, sleepaway camps are either agency camps or private camps. There is a pretty big price differential between the two. If cost is a concern, agency camps – like YMCA, JCC, American Youth Foundation (AYF) sponsored – make camping much more affordable. Private camps are not subsidized in any way, so the camper is paying for all of the costs to run a camp.
Tips Co-owner Carey Rivers says there are other ways to save as well and receive a discount on the tuition, "At most camps, early enrollment discounts are offered. It is probably too late in the season to take advantage of early camp enrollment this year, but be on the lookout for last minute teen trip deals. Late in the season, trip leaders are often trying to even out the gender balance on a trip or want to ensure a trip has minimum enrollment, so they will offer steep discounts to incentivize families to sign up." Lastly, if you are trying to provide a camping experience for more than one child, be sure to ask for a sibling discount.
Eifler recommends finding out about the extras too: "When budgeting for camp, you should also ask the program director about extra costs such as optional activities, spending money, special clothing and equipment, and trip insurance." A camp may offer horseback riding, but is there an additional cost for participating in this activity? When your son or daughter goes to the camp store, do they have an open-ended account or is there a set amount? If it is open-ended, you will be the one responsible for that bill at the end of the summer so you should have a conversation with your child about reasonable spending. If there are out-of-camp trips, you should find out whether or not those are included with your tuition.
Rivers says, "There is a camp or program out there to fit every budget!" Almost every camp – private or agency – offers some amount of need-based "camperships." Jewish Federations, church groups and YMCAs give out scholarships. If you are considering a Jewish identity camp, be sure to check out the One Happy Camper program to see if your child is eligible for $1,000 off the cost of tuition. For older kids, there are programs like Summer Search whose aim it is to send at-risk youth to leadership development programs like wilderness trips.
Happy camping!
Tips on Trips and Camps, Inc. (http://www.TipsonTripsandCamps.com) was started by two moms in Baltimore in 1971 who wanted a better way to research camps and teen programs for their own children. Today, Tips serves families throughout the United States and abroad via the internet and maintains area offices in: Baltimore, Washington, D.C., New York City and Westchester County, Philadelphia, Los Angeles, Southern Florida, Connecticut, St. Louis, Chicago, Dallas, New Jersey, Paris (France) and Barcelona (Spain).