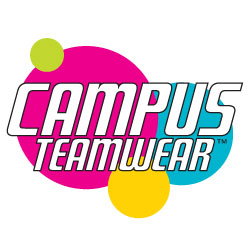 We are always looking for ways to give back to local and national communities.
San Diego, CA (PRWEB) June 04, 2013
Summer camp season is approaching and Campus Teamwear, a leading cheerleading apparel retailer, is helping kids and young teens attend by sponsoring Cascade AIDS Project's fundraiser, Bat 'n Rouge, a softball tournament with a comedic flair, including themed costumes.
Based in Oregon, Cascade AIDS Project is a community-based provider of HIV services, housing, education, and advocacy. Bat 'n Rouge is an annual fundraiser that raises funds for Camp KC, an annual week-long camp for children ages five to 14 who are infected with and/or affected by HIV/AIDS.
The camp includes fun activities like swimming, arts and crafts, dance classes, nature hikes, ropes courses, and more. The cost for each camper is generally over $1,000 but thanks to community support and sponsorship by companies like Campus Teamwear, the children attend for free.
"We are always looking for ways to give back to local and national communities. Every child deserves to attend summer camp and we're happy to donate and help raise funds for this wonderful organization," said Jessica Rzeszut, marketing manager at Campus Teamwear.
As a sponsor, Campus Teamwear is providing Chassé cheerleading poms for the cheerleaders to use during Bat 'n Rouge.
"Campus Teamwear is the perfect company with which to collaborate. It's a company with quality product, the ability to tailor items needed to match our event, and the willingness to help us send kids to camp," commented Andrew Shayde, Special Event Coordinator at Cascade AIDS Project (and a former National Champion cheerleader).
Campus Teamwear donates to events across the US, as well as local events. Recently, the company sponsored the Stroll & Roll charity walk in San Deigo, an event that promotes active lifestyles for those with physical disabilities. Campus Teamwear provided several items for raffles and auction baskets, including Chassé poms and Fun"D" 2Raise scratch-off fundraising cards.
Bat 'n Rouge, in its second year, takes place on August 4 at Lillis-Albina Park in Portland, Oregon. To find out more information, visit http://www.cascadeaids.com.
About Campus Teamwear®:
For over twenty years, Campus Teamwear has supplied athletes with apparel, gear and accessories. The sportswear retailer guarantees the absolute lowest prices on high-quality items, including uniforms, warm-ups, shoes, practice wear, fundraising items, and body basics. To learn more, please visit the online store.